Sugarlolo Apple Sparkling Water (350ml x 6) | INTAKE
Description

Details

Reviews
Sugarlolo Apple Sparkling Water
Refreshing and healthy, a guilt-free alternative to fix all your sweet carbonated drink cravings. INTAKE's Sugarlolo Sparkling Water is sugar-free and only contains 5kcal of calories, with no additional colourings and preservatives.
Calorie Intake Comparison
What You Will Be Getting
6 bottles of Sugarlolo Apple Sparkling Water, each 350ml. 

BB Tip
Store it in the fridge before consuming for a cool, refreshing drink. You can also drink it with ice or add a few fresh apple slices for a more upgraded look and taste.

Storage Information
Sugarlolo sparkling water is contained in PET bottles for easy consumption and storage. Store in a cool place without exposure to direct sunlight, preferably in a refrigerator for Singapore's hot climate. 
FAQ
Q: What is the expiry date?
A: It is 12 months from the production date (please refer to what's stated on the product). Even though the expiry date is far, it's recommended that you consume the drink as quickly as possible to get the best taste.
Q: How should I store the drinks?
A: Keep them in a cool place away from direct sunlight. Storing them in the refrigerator will make them taste more refreshing. Ensure that you do not store them in the freezer as they are carbonated.
Q: How is the drink sweet even without added sugar?
A: Instead of sugar, the natural sweetener erythritol is used to create the sweet taste.
Q: How many bottles can I consume in a day?
A: Every bottle contains 10.5g of erythritol. Since the body does not absorb any calories from erythritol, there is no standard as to how much one can consume in a day. However, depending on each individual's physical constitution, consuming too much may result in abdominal pain or diarrhea, so a maximum of 2-3 bottles a day is recommended. 
Ingredients: Purified water, erythritol, carbon dioxide, citric acid monohydrate, artificial flavouring (apple flavour), apple concentrate (Korea), DL-malic acid, enzymatically modified stevia, sweetener (sucralose)
| | |
| --- | --- |
| Nutrition Information | Calories 5kcal (350ml) |
| Sodium | 50mg (3%) |
| Carbohydrates | 11g (3%) |
| Sugars | 0g (0%) |
| Erythritol | 11g  |
| Fat | 0g (0%) |
| Trans fat | 0g |
| Saturated fat | 0g (0%) |
| Cholesterol  | 0mg (0%) |
| Protein | 0g (0%) |

% are based on an average person's daily intake of 2000kcal
Expiry date is as stated on the bottle cap.
Customer Reviews
Write a Review
Ask a Question
07/05/2021
Anonymous

Singapore
10/04/2021
Yeojin K.

Singapore
I recommend this product
Amazing
Amazing taste and guilt free that it is only 5kcal with this sweet fruit flavour. Need to buy again!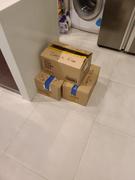 Hi! Thank you for your kind review. You have earned $0.40 on this review! Write more reviews for the products you have purchased and earn $0.40 for every verified review with a picture ;)
06/04/2021
Jennifer

Singapore
I recommend this product
Super yummy! Love the sweetness but low calory
Surprised that it taste very nice. Initially bought for my husband who loves sweet drinks because it says the water is sweetened with stevia so it's healthier, but ended up drinking some myself!
Thank you for your kind review!
01/04/2021
Anonymous

Singapore
Good price
Taste amazing and still 5 calories so guilt free. Cheaper thab Shopee. Thank u
Hi! Thank you for your kind review. You earned $0.20 worth of BB Points from this review. Review more items with images & earn up to $0.40 BB Points each review to claim vouchers.
Sugarlolo Apple Sparkling Water (350ml x 6) | INTAKE