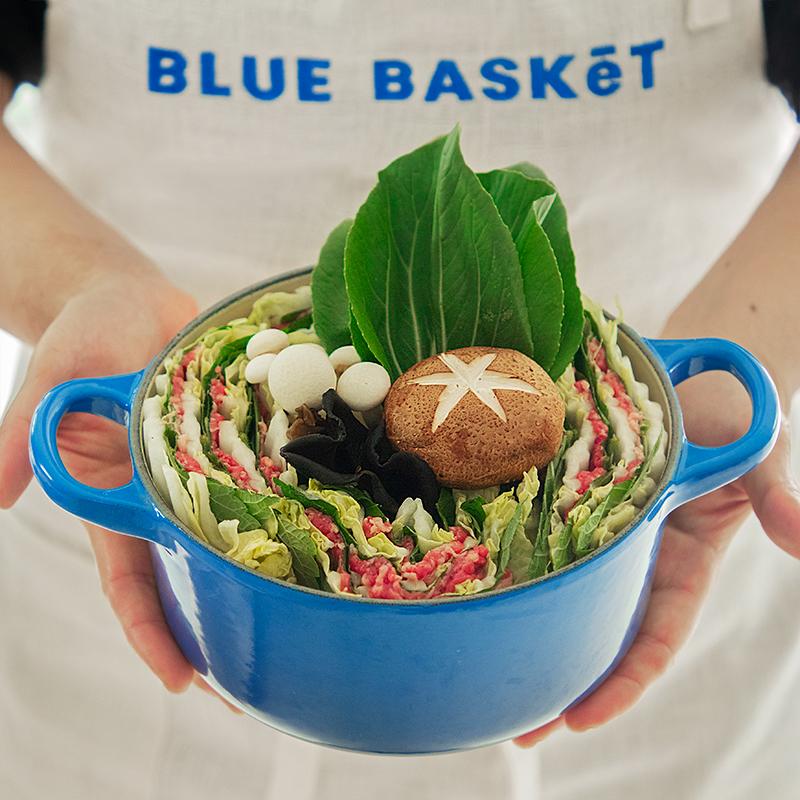 Mille-Feuille Nabe 밀푀유나베 (Chilled) | The BlueBasket
Mille-Feuille Nabe Meal Kit 밀푀유나베 밀키트
Mille-Feuille Nabe
Mille-Feuille means "Thousand Leaves" in French and Nabe means "pot" in Japanese. It is a fusion dish that has gained popularity in Korea for its aesthetic visuals.
A highly nutritious fusion hotpot dish with a rich-tasting broth, infused with flavours from the layers of meat and vegetables, served with a savoury homemade peanut sauce. A visually appealing, scrumptious and comforting meal to impress guests or enjoy with your loved ones.
3 Different Tastes In A Pot
Enjoy a wholesome and delectable bowl of Mille-Feuille Nabe with savoury beef, crunchy vegetables and chewy assorted mushrooms, all in one pot.
Extraordinarily Rich Broth
Sweet and savoury broth made using kelp, for that umami flavour and clean aftertaste.
2 Flavours To Choose From
The special soy sauce brings out the original taste of the ingredients, while the chili sauce enhances the rich nabe flavour.
What Is Included
Beef Chuck, Cabbage, Bean Sprout, Shanghai Green, Perilla Leaves, Dried Kelp, Shiitake Mushroom, Baby king oyster Mushroom, Dried Black Fungus, Soup Base, Savoury Dipping Sauce
Remove the blood from the meat using a kitchen towel.
In a pot, pour in 1 litre of water, Nabe broth, Dried Kelp, and bring it to a boil. Thereafter, scoop out the kelp.
Soak the black fungus in warm water.
Wash the vegetables.
01
On a chopping board, layer the ingredients in this sequence: cabbage > perilla leaves > beef > cabbage > perilla leaves > beef > cabbage > perilla leaves > beef > cabbage
02
Cut the layered ingredients into 4 equal stacks.
03
Lay the bean sprouts on the bottom of the pot and arrange each stack of ingredients in a circular fashion.
04
Place the shanghai green and assorted mushrooms in the remaining space in the middle of the pot.
05
Pour in the broth and let it boil for 15 mins on medium heat.
06
Pour the 2 packets of sauces into a saucer, dip and enjoy.
Dip In Raw Egg
Crack and beat an egg in a bowl to use it as a dip for the meat and vegetables. The savoury egg will provide an extra flavour.
Vegetable Porridge
Add rice, finely chopped vegetables (carrots, mushrooms, etc.) and eggs to the remaining broth and bring it to a boil. Enjoy a flavourful and wholesome serving of Mille-Feuille Nabe Vegetable Porridge.
1 Box of Mille-Feuille Nabe
- All the ingredients are separately vacuum packed
- Please store product in the refrigerator upon receiving
- Do not freeze
BB COLD BOX
- Products are placed in biodegradable bags and shipped via our BB Cold Box
- Our BB Cold Box is layered with dry ice to ensure temperature is kept cool during transit
- Upon arrival, our delivery person will hand over the biodegradable plastic bags containing your order(s)
- BB Cold Box will NOT be given to the customer
- Learn about BB COLD BOX >