Seaweed Facial Bubble Clay Mask | Phykology
Phykology: The seaweed bubble clay mask made from nature best
Phykos means seaweed in Greek. Phykology is a Korean brand that believes in ocean's ability to vitalise our skin and bring out our inner beauty. Phykology was founded at the southern tip of a Korean island known as Wando (?"도). Wando sea is the main producer of seaweed in Korea. Phykology brings the revitalising nutrients and minerals from the Korean sea to you in the form of fresh seaweed.
 BB Curator Comments
Phykology is an all-in-one clay mask pack that removes dirt, dead skin, and other impurities.
Expedite your skin routine with this versatile mask!
Save your precious skin and your precious time.
Key Features of Phykology Seaweed Facial Bubble Clay Mask
1. Ranked no.1 Facial Wash-Off Mask Pack in Korea
A popular K-beauty variety show "Get it Beauty" ranked the Phykology Facial Bubble Clay Mask as number 1 facial wash-off mask.
2. Contains kalium, iron, essential proteins, and vitamins
Phykology revitalises your skin with minerals and nutrients from the bottom of Wando sea.

3. Comes in convenient single-use packets
Get a pack of fresh mask formula every time.  
 Who is Phykology Seaweed Facial Bubble Clay Mask for?
For those looking to lighten dark blemishes
For those looking to moisturise their skin to blend their makeup and skin together
For those looking to pamper themselves and their tired skin
For those looking to give their skin a thorough cleanse
One mask pack that will take all your concerns away!
Customer Reviews
Write a Review
Ask a Question
11/13/2020
Sophie
Singapore
I recommend this product
Pleasantly surprised
A perfect clay mask for on-the-go! My skin felt clear and smooth after using it without drying out like other clay masks. Recommended!
10/20/2020
Sally L.
Singapore
I recommend this product
Radiant skin after using seaweed facial bubble Clay mask!
It is very interesting and I like that the mask fizzles with bubbles when the bubbles started forming on my face My skin felt cleaner and smoother after using it and my make-up went smoothly on my face after application! It is ranked Top 1 in Korea Beauty Show (Get it Beauty) and I would see the reason why it is so well love!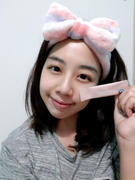 Welcome to BlueBasket 💙
Is it your first time here?
Get a special 10% promo code in your inbox for your first purchase on BlueBasket!
Seaweed Facial Bubble Clay Mask | Phykology