Jeju Red Hyang Tangerine 2kg Box
Juicy, large premium tangerines that are only available for harvest in winter. Grown naturally in Jeju Island's Seogwipo fields and hand-picked by tangerine experts. 
Breed Information
Red Hyang Tangerines are a cross breed between the iconic Jeju tangerine, the Hallabong and Korean's favourite Noji Tangerines. From the outside, as the name suggests, Red Hyang Tangerines are characterised by their red-tinted peel. On the inside, they are known to have a very sweet, chewy, firm-textured thick flesh. 
BB's Red Hyang Farmer
     BlueBasket's Red Hyang Tangerines were proudly grown by Tangerine Master (certified by by Korea Agricultural Assoiciation) Mr. Boo Jae Il. With 37 years of experience in cultiviation tangerines, and 11 years of growing Red Hyang, you can expect the best quality of Red Hyang from BlueBasket.  
What You Will be Getting
A box with 2kg Red Hyang Tangerines fresh, air flown from Jeju Island. Each box contains approximately 6 to 10 pieces depending on the size & weight of each tangerine. Total weight will be 2kg.
Storage Information
Keep the tangerines refrigerated when not consumed. As tangerines have a high moisture content, it can get mouldy and spoil when it is kept at Singapore's humid, room temperature for a long period of time. Here are also more tips on how to store your tangerines.
Customer Reviews
Write a Review
Ask a Question
02/13/2021
Anonymous

Singapore
I recommend this product
Amazing
Really enjoyed! Thanks
02/10/2021
Anonymous

Singapore
I recommend this product
Amazing service
I had expected my delivery to be delayed but the team went above and beyond and got it to me ahead of time. So unnecessary - but so lovely! Thank you. Obviously the tangerines were delicious too :)
Thanks alot for your kind review :) We are super happy to hear! We will always do our best to do better! :)
02/07/2021
kayos

Singapore
I recommend this product
Fragrant with a unique texture
Got these to share with the family and we enjoyed the popping sensation of the juicy pulps! The tangerine fragrance was also lovely; quite apparent when you peel them. My MIL was happy to note that unlike some oranges, these don't leave an itchy-throat sensation at all. So easy to eat the whole box in one sitting (we had to control ourselves ) If there are any slightly green ones, would recommend to eat those last to let them ripen a bit more.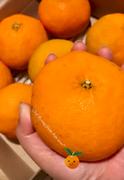 Thank you so much for your kind reviews :) Super happy to hear you enjoyed our Tangerines. We always do our best to only bring good quality food / goods!
01/31/2021
Anonymous

Singapore
I recommend this product
My kids love it!
My son usually dont like Tangerines but this one he loves! Thank u seller!
Thank you so much for leaving us kind reviews! Happy to hear your kids loving it! :)
01/22/2021
Jennifer

Singapore
Red Hyang Jeju Tangerine (2kg Box)