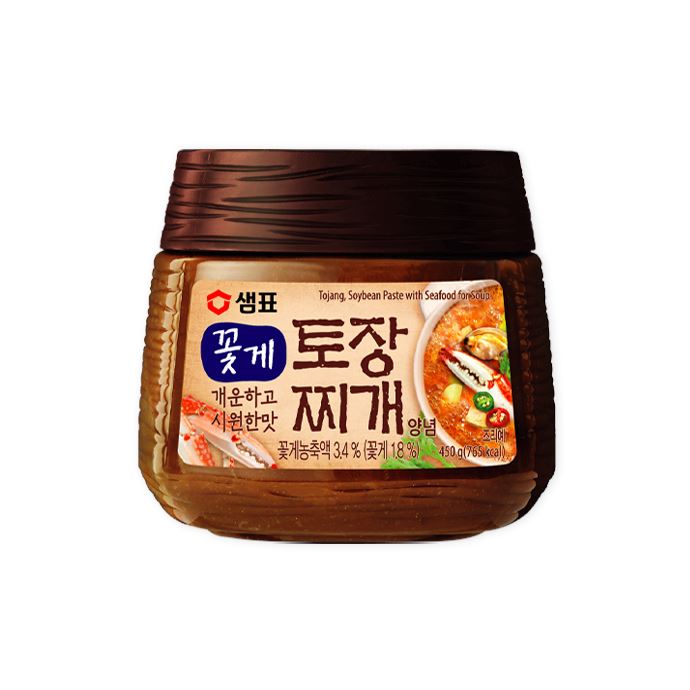 Tojang(Soybean Paste for Seafood Soup) 샘표 꽃게 토장찌개 양념 450g l Sempio
Tojang(Soybean Paste for Seafood Soup) 샘표 꽃게 토장찌개 양념 450g

Made using 'Tojang', the secret recipe of the aristocrats of old. Ordinarily, soybean paste is made of the leftover soybeans used in making soy sauce, meaning that many of the savory flavors go into the soy sauce rather than the bean paste. Tojang, however, doesn't remove the soy sauce leaving all the delicious, deep, savory flavors intact.
Clams and blue crabs have already been added – just boil the paste as is for a great tasting broth.
Easily enjoy the fresh flavor of blue crab in an exquisite seafood stew right at home.
- Ingredients: Doenjang1), Doenjang2), Water, Minced garlic, Crab concentrate, Soybean, Minced onion, Alcohol, Seafood seasoning*, Salt, Dried pollack extract, Red pepper powder, Clam concentrate, Licorice extract. 1-2) Doenjang : water, soybean, salt, alcohol, koji starter. *Seafood seasoning : monosodium glutamate, seafood seasoning base(anchovy powder, tuna concentrate, kelp extract powder), vegetable seasoning base, anchovy powder.
- Allergy Info. : Soybean, Fish(crab, pollack, clam, anchovy,tuna)