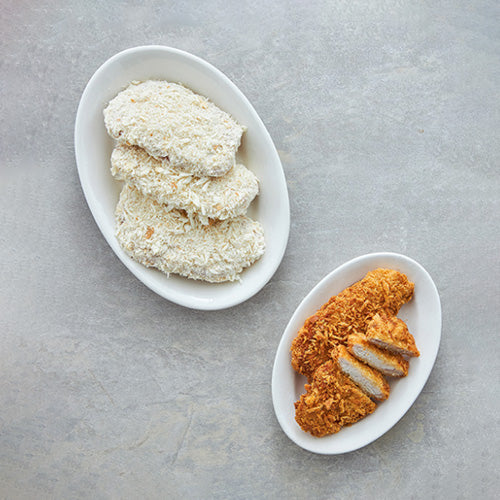 Pork Sirloin Tonkatsu (2EA x 200g) 도토리 먹은 등심 돈까스 1.5CM | The BlueBasket
Pork Sirloin Tonkatsu (2EA x 200g) 도토리 먹은 등심 돈까스 1.5CM | The BlueBasket
Miss savoury Korean home-made food?

Crisp pork cutlet with moist juices is one of the favourites everyone likes regradeless of age and gender. BlueBasket prepared flavourful pork cutlets without any bad smell as if it was home-made.
Just enjoy what we have prepared for you!

Fresh Korean domestic sirloin is shaped into thick meat and aged
suitably
, so the rich juices and quality of meat are excellent.
We didn't miss the crispy texture by using the large wet bread crumbs as well!
Feel at ease, we work with experts
We worked with manufacturers who have been producing pork cutlets for several years honestly and cleanly, so feel at ease, just enjoy in the comfort of your home!
What You Will Be Getting
200g of carefully selected Pork Sirloin Tonkatsu X 2EA 
How To cook
Deep fry for  about 10-15 min in medium heated temperature. 
Tip!
Preheat the oil in medium heated temperature, put the bread crumbles to test the temperature.
If the bread crumbles floated in 5 second, it's time to cook Tonkatsu.
If the bread crumbles floated right away, means the temperature is too high.
Put some holes on tonkatsu, it will be well cooked inside as well. 


Shipping Method

BB COLD BOX

- Products are placed in biodegradable bags and shipped via our BB Cold Box
- Our BB Cold Box is layered with dry ice to ensure temperature is kept cool during transit
- Upon arrival, our delivery person will hand over the biodegradable plastic bags containing your order(s)
- BB Cold Box will NOT be given to the customer

Storage Instruction
- Please store product in the freezer at -18°C upon receiving it