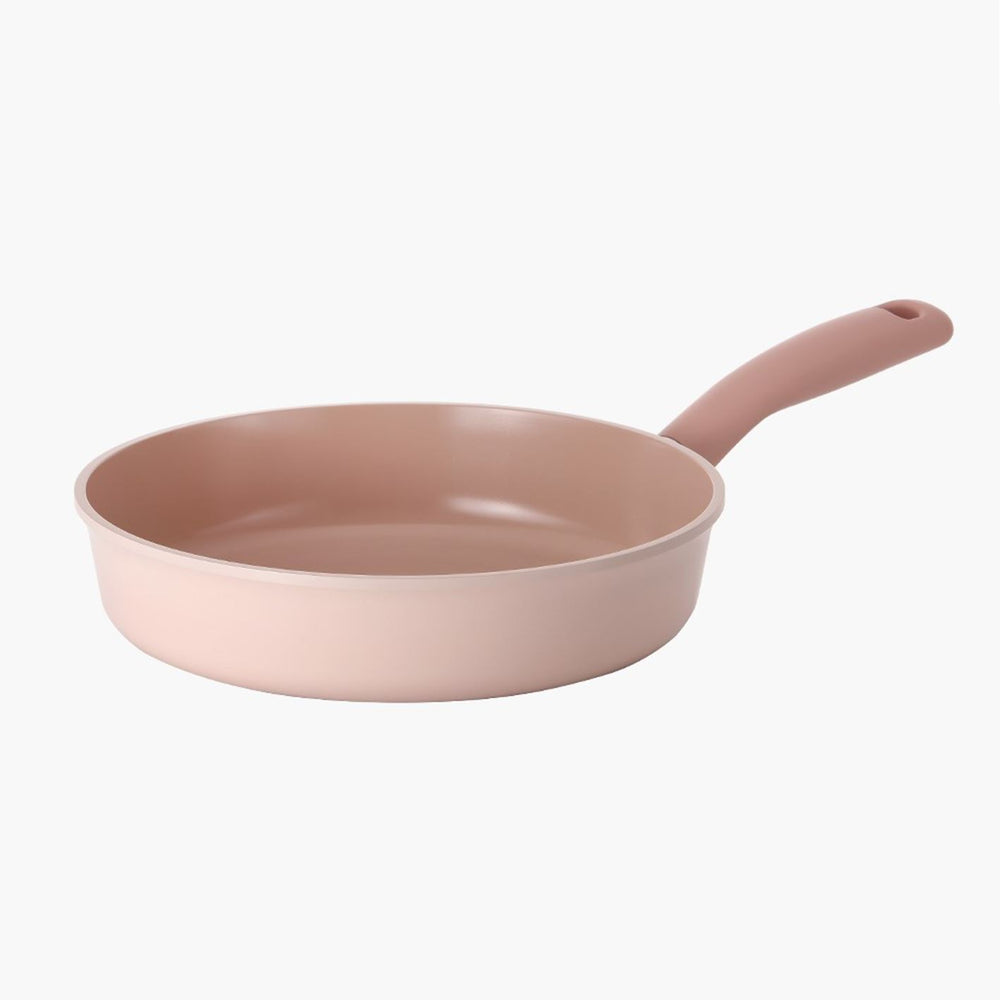 Sherbet Frying Pan 샤베트 프라이팬 (20cm & 26cm) | Neoflam
Sherbet Frying Pan (20cm & 26cm)
Lightweight, functional and featuring beautiful designs, Neoflam's Sherbet Frying Pans are great additions to your kitchenware collection. Available in two sizes (20cm & 26cm), these versatile frying pans will come in handy for your daily use, be it for making simple one-pan meals or stir-fried dishes and pancakes.

Product Specifications
200 x 426 x 53(80)mm (771g) Ceramic Coated 20cm Frying Pan
260 x 445 x 60(90)mm (1,224g) Ceramic Coated 26cm Frying Pan
The Sherbet Frying Pan comes in two size variations: 20cm and 26cm. The 20cm pans are good for making fried eggs and pancakes, while the 26cm pans are good for cooking in larger quantities or for cooking simple one-pan dishes like fried rice and pasta.
Comfortable Grip Handle

Meticulously designed with the user in mind, the Sherbet Frying Pans feature an excellent handle shape and design, providing a comfortable grip for easy handling.
Non-Stick PFC-Free Ceramic Coating
Say goodbye to spending a long time in front of the sink scrubbing off stubborn bits and stains from your pans. Featuring a healthy PFC-free ceramic coating from nature, the non-stick Sherbet Frying Pan offers a fuss-free cooking experience, even with little oil used.
Induction Stove Friendly
Not only can the Sherbet Frying Pans be used on gas stoves, they can also be used on induction stoves too, providing you with lots of flexibility in the kitchen.
Cutting Edge Technology and Safety Guaranteed
Enjoy a peace of mind while preparing your meals. Neoflam's Sherbet Frying Pans are healthy cookware certified to be free of harmful substances, as they do not use perfluorinated compounds such as PFOA, PFOS, lead and cadmium. 
Not only that, the Sherbet Frying Pans boast a 3-layered XTREMA ceramic coating which enhances their durability, as well as a heat expansion pattern with enhanced thermal efficiency. 
Beautiful and Lovely Design
To top it off, the Sherbet Frying Pans also come in a simple yet beautiful design and a lovely shade of pink. These frying pans are not just functional, but also make a great finishing touch to styling your kitchen or dining table set-up.