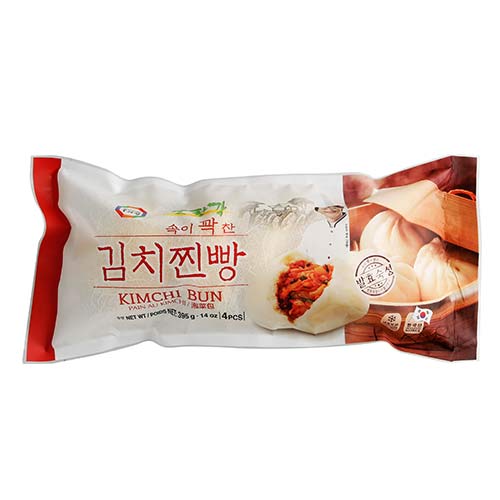 Kimchi Bun 4ea 모란각 김치 찐빵
모란각 김치 찐빵 4입(KIMCHI BUN 4PCS)
모란각 김치 찐빵 4입 / KIMCHI BUN 4 PCS
찜솥 냄비에 적당량의 물을 넣고 면보를 깐 찜기를 올린 후 물을 끓입니다. 김이 나기 시작하면 찐빵을 넣고 뚜껑을 닫은 후 20분간 조리해주십시오. 
IN A POT : Add some water to a pot and insert a steamer tray. Line the bottom of the tray with a steamer cloth, and then bring the water to a boil. When the steam starts to emerge, place kimchi buns on the tray. Cover the pot with a lid and cook for 20 minutes.
전자레인지 (1000W, 1개 기준): 찐빵을 접시에 담아 | 표면에 물을 약간 뿌린 후, 랩을 씌워 30초간 데워 드십시오. (냉동된 찐빵일 경우, 1분간 데워 드십시오) 
IN A MICROWAVE OVEN (1000W, PER BUN): Place a kimchi bun on a microwave safe dish, and damp the surface of the bun. Wrap it completely, and heat in a microwave oven for 30seconds (Heat a frozen bun for 1 minute).
전기밥솥 : 바닥에 면보를 깔고 약 5분간 예열한 후, 찐빵을 넣고 15분간 쪄서 드십시오. (밥 위에 얹어 쪄 드셔도 좋습니다)
 IN A RICE COOKER: Line the bottom of a rice cooker with a steamer cloth and preheat it for 5 minutes. Put kimchi buns in the rice cooker, and cook for 15 minutes.