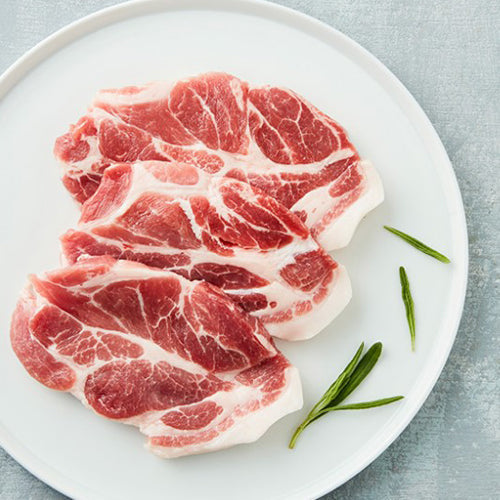 1.6cm Pork Collar 200g 도토리 먹은 듀록 목살 | The BlueBasket
1.6cm Pork Collar 200g 도토리 먹은 듀록 목살 | The BlueBasket
The World's TOP 3 Luxury Pork, Duroc, Incomparable to ordinary pork

Pork Collar is a muscle that runs from the jowl of the pig, through the shoulder, specifically the boston butt, and extends close to the loin.
Duroc is one of the world's top 3 luxury pigs, which is a breed of pig raised under strict breeding methods. It feeds on acorns as its diet, giving the pork meat a nutty and evocative flavour. If you're looking for pork with a better taste than normal ones, choose Duroc!
What makes BB's Pork Collar extraordinary

With evenly distributed fat between muscles, can feel a more tender texture.
Has abundant fatty acids and amin acids, can enjoy the deep flavour.
With the proper acidity (PH) in meat, can taste the meat as it is without being mushy.
How to enjoy

Tastes best when grilled or pan fried
It can also be roasted or steamed

What You Will Be Getting
200g of carefully selected Pork Collar.
Please store product in the freezer below -18 °C upon receiving it
Shipping Method

BB COLD BOX

- Products are placed in biodegradable bags and shipped via our BB Cold Box
- Our BB Cold Box is layered with dry ice to ensure temperature is kept cool during transit
- Upon arrival, our delivery person will hand over the biodegradable plastic bags containing your order(s)
- BB Cold Box will NOT be given to the customer