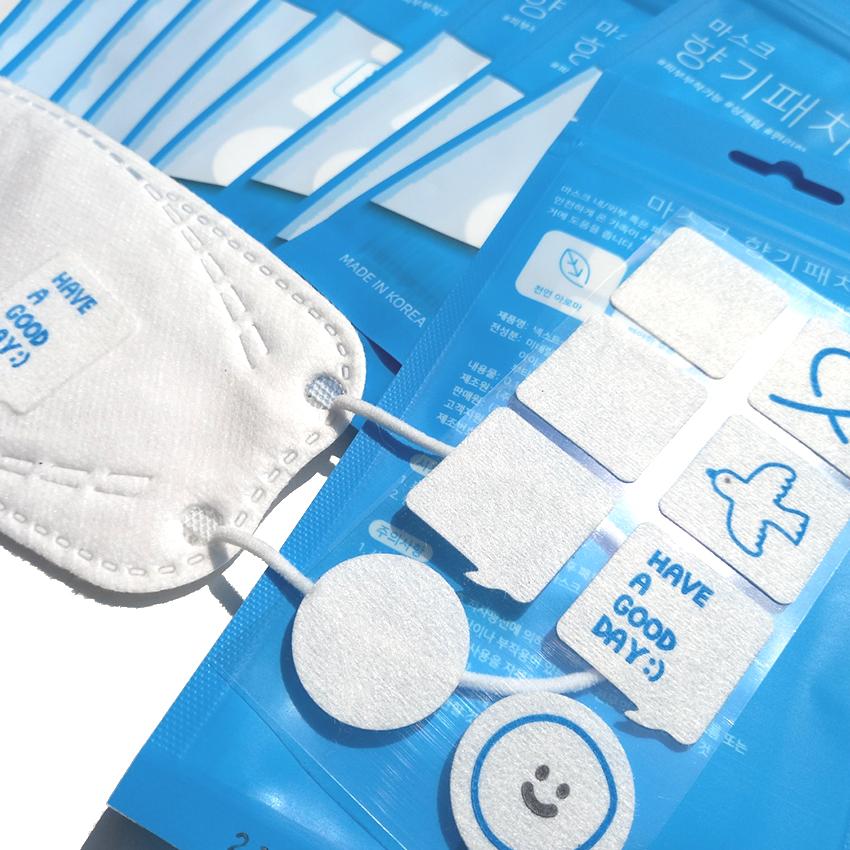 Antibacterial Stick-on Aroma Mask Patch 항균 마스크패치 | Bigkid

Antibacterial Aroma Mask Patch
Having to wear a mask over long periods especially in the warm and humid weather of Singapore may cause the inside of your mask to develop an unpleasant odour either from perspiration or bad breath. 
Bigkid's Next Solution mask patch is here to solve that problem and freshen up the air inside your mask with a soothing aroma so that you can breathe comfortably with your mask on. 

Peppermint Scent
The aroma patch is induced with a refreshing peppermint scent produced from 100% natural peppermint plant. Besides its pleasant smell, it also has a cooling effect and effectively gets rid of any discomforts such as nausea or motion sickness you may have while wearing a mask.
Product Specifications
Each sheet comes with 8 stick-on patches (0.12g x 8) that are kept packaged in a reusable zipper-bag to keep out germs so that you can safely use them for a long time after unsealing.
Note: The blank patches are not deficiencies in production. They are for days where you don't feel like using a patch with a printed design!
Ingredients: Mineral oil, hydrogenated polycyclopentadiene / isopentane / isoprene / styrene copolymer, hydrogenated styrene / butadiene copolymer, peppermint oil, eucalyptus oil
Mask patches manufactured after 24 February 2021 are 100% produced in the Republic of Korea.

Recommended For 
Those working in the service sector who meet many people daily
Those who have had their meal or coffee and dislike the lingering smell of food in their masks
Those wearing a mask while using crowded public transport systems
Those worried about perspiring behind the mask and the stuffiness of the mask while exercising
How to Use: Simply stick one patch onto the outside of your mask!

Not Just for Masks
Since the patches are stick-on, you can easily use them anywhere, from your phones, wardrobes, hats, to inside cars.