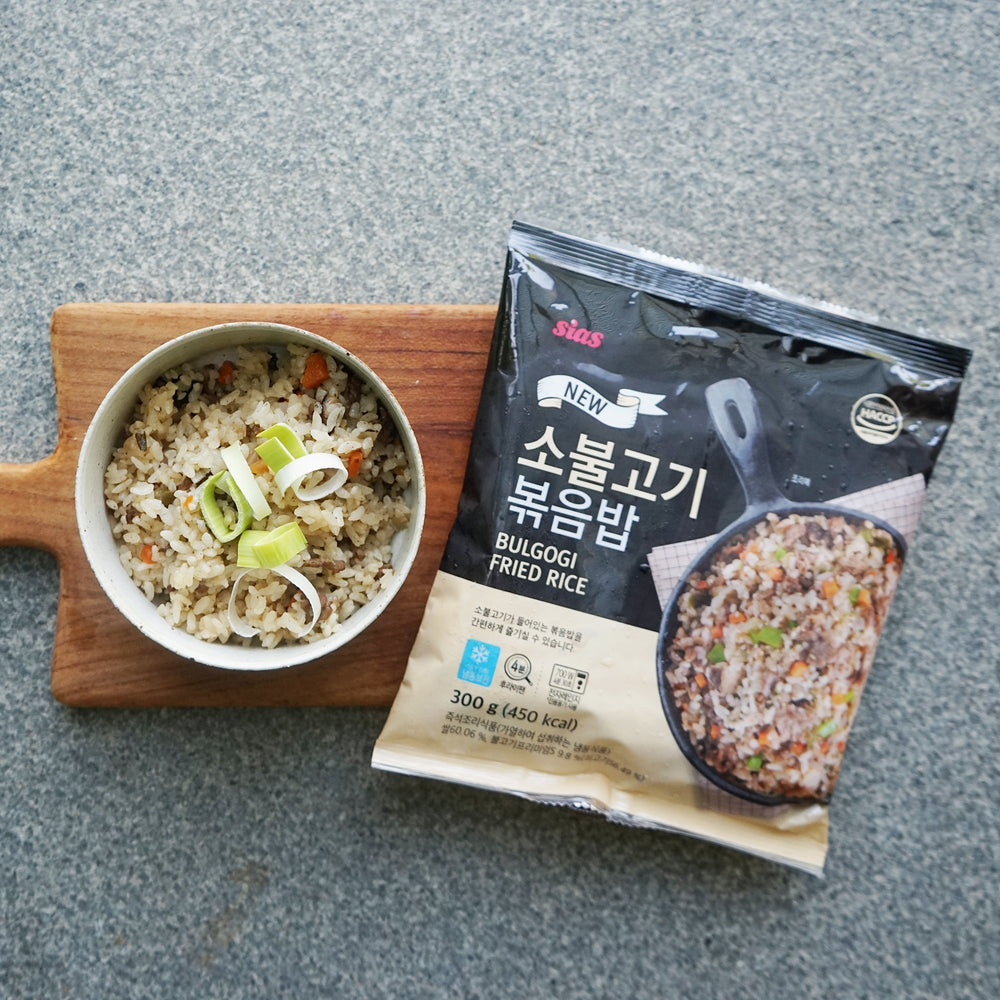 Beef Bulgogi Fried Rice 불고기 볶음밥 (1-2 Pax) | Sias
Beef Bulgogi Fried Rice
Enjoy a tasty bowl of Korean Bulgogi fried rice filled with tender roast beef bits anytime with Sias' new instant fried rice series. 
Heating Instructions
Fry Pan
Add oil to a heated pan and pour the frozen fried rice into the pan. Stir-fry it for about 4-5 minutes.
Microwave Oven

Pour the frozen fried rice into a microwave-safe container and microwave it for 4.5-5 minutes.
Cautionary Note
Be cautious of any risk of scalding from the hot steam of the food after heating. Do not consume the product if there are any damages to the packaging. As condensation or ice on the packaging may cause oil to splatter, pour out the content into the pan from a safe distance.
Sias Fried Rice Series
Sias fried rice comes in a variety of flavours up to your pick, with ingredients from seafood to meat and vegetables.
Delivery Packaging
All our frozen items are delivered in a thermal bag to preserve the freshness and quality of the food products.
Details
Ingredients: Rice, premium bulgogi, onion, carrot, shitake mushroom, fried rice seasoning, leek, teriyaki sauce, beef bulgogi sauce, canola oil, garlic scapes, sesame oil, refined salt etc.
Possible allergens: Food products containing bean, wheat, milk, tomato, beef, sulfuric acid, shellfish
| | |
| --- | --- |
| Nutrition Information | Calories 450kcal (300g) |
| Sodium | 2240mg (112%) |
| Carbohydrates | 62g (19%) |
| Sugars | 8g (8%) |
| Total Fat | 15g (28%) |
| Trans fat | 0g |
| Saturated fat | 2.9g (19%) |
| Cholesterol  | 15mg (5%) |
| Protein | 17g (31%) |

% are based on an average person's daily intake of 2000kcal
Expiry date is stated at the back of the product in the form of YYYY.MM.DD