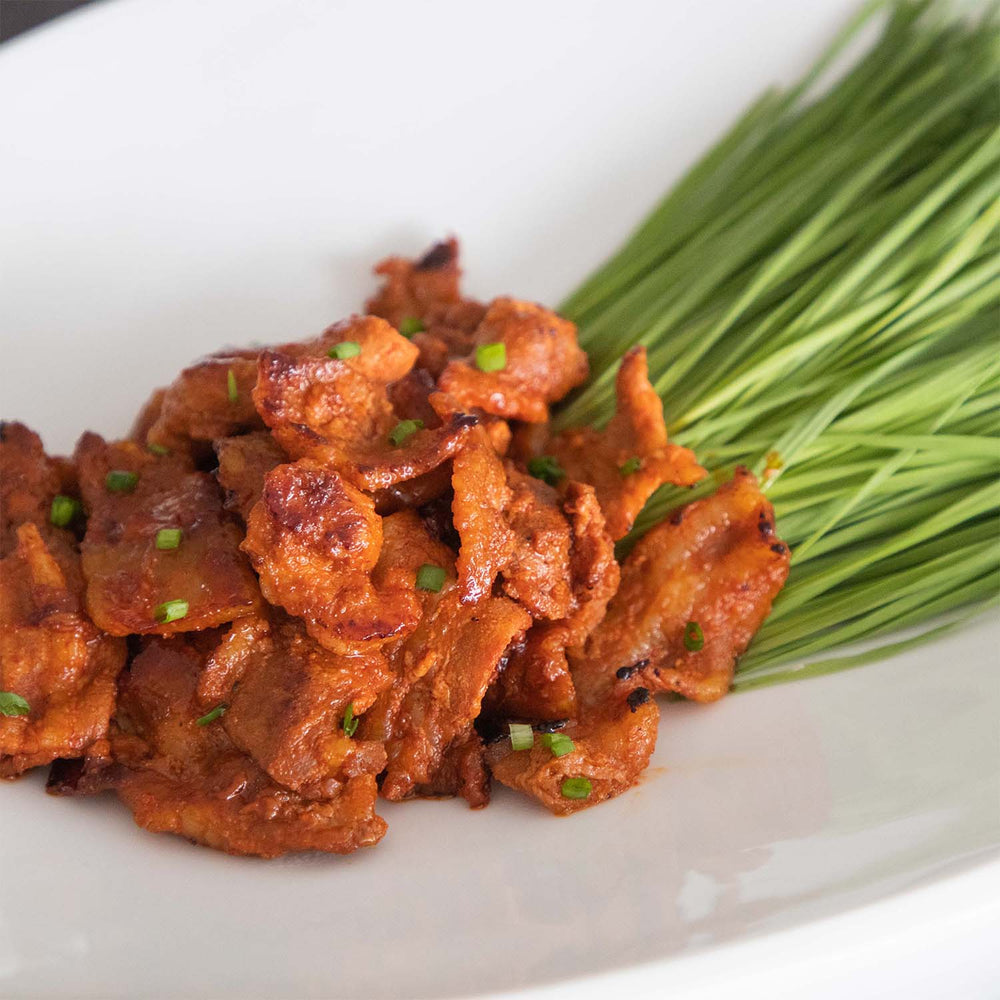 Korean Brown Sugar Pork Belly Bulgogi (1 x 300g) 흑당에 재운 삼겹살 불고기 | The BlueBasket
Korean Brown Sugar Pork Belly Bulgogi (1 x 300g) 흑당에 재운 삼겹살 불고기

Brown Sugar Pork Bulgogi 
BlueBasket's Pork Bulgogi makes use of the pork belly cut, which is sliced at an optimal thickness to retain a chewy texture. The meat is marinated in dark brown sugar syrup to tenderise it and give it a subtle brown sugar aroma. 
The brown sugar marinated meat is also seasoned with a secret recipe gochujang sauce and ground fresh fruits. It is then left to age, so that you will be able to taste the deep flavours as the meat fully absorbs the seasoning. 

Check Point
Premium Grade Meat
If You Had A Korean Mom's Pork Bulgogi is made using pork belly which has a right distribution of meat and fat. When you stir-fry, the oil from the meat mixes well with the seasoning to enhance its umami flavour. 
Sweet Dark Brown Sugar

Rather than immediately seasoning the meat in gochujang, it is first marinated with brown sugar syrup to give it a softer texture, with a subtly aromatic flavour.
BlueBasket's Secret Recipe Sauce

As fresh fruits were added to remove odor and tenderise the meat, instead of a strong spicy gochujang taste, you will fall for the irresistible taste of our secret recipe sauce. 
Fuss-Free Grilling

The meat is cut into a thickness that is optimal for grilling, before being marinated evenly then shipped out frozen. Simply defrost the meat and grill it in a pan to enjoy!
How To Cook

01
Thaw the product in a refrigerator. Usage of hot water or microwave will cause the meat to lose its juice and end up tough.  

02
Place the meat in a non-stick pan and stir-fry on medium heat. 

03
Once the meat is fully cooked, slightly torch it if you would like to enjoy a smoky flavour.
How To Enjoy
Perilla Leaf Wrap
Wrap the spicy pork bulgogi with perilla leaves for additional flavour
What You Will Be Getting

2 Packets of 250g Pork Bulgogi
- Vacuum packed and flash-frozen Pork Bulgogi
- Separately packed into 2 packs of 250g each, to allow easy cooking of smaller portions
- Please store product in the freezer at -18°C upon receiving it.
Shipping Method

BB COLD BOX
- Products are placed in biodegradable bags and shipped via our BB Cold Box
- Our BB Cold Box is layered with dry ice to ensure temperature is kept cool during transit
- Upon arrival, our delivery person will hand over s the biodegradable plastic bags containing your order(s)
- BB Cold Box will NOT be given to the customer