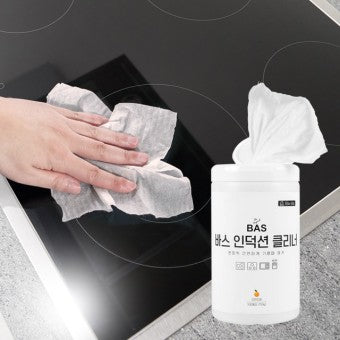 Kitchen Cleaner Wet Wipes for Induction Cooker & Microwave Cleaning 인덕션 클리너 (100 sheets) | BAS
Induction Cooker & Microwave Cleaning Wipes
Isn't cleaning your kitchen every time after cooking such a hassle? Tired of repeated rinsing and cleaning with your table cloths? Well, you can save some of such effort with BAS's Kitchen Cleaning Wipes. These aren't just your regular wet tissues. As its name suggests, it is specially made to be suitable for cleaning greasy surfaces in the kitchen, such as your microwaves and induction cookers. Feel free to use it anywhere else you deem fit! Simply wipe and dispose - how easy!
BAS Induction Cooker & Microwave Cleaning Wipes Features
Very convenient, fast and easy to use and dispose 
Packaged in a container for easy, hygienic access and storage to retain moisture
Effective cleaning of greasy surfaces
Has a slight refreshing orange scent
How to Use?
Open the lid of the container and take a sheet.
Close the lid and ensure that the lid is tightly closed.
Wipe the target surfaces.
Use the sheets one at a time as each sheet is effective enough by itself (no need for doubling them for thickness).
Why use BAS Induction Cooker & Microwave Cleaning Wipes?
As mentioned above, BAS Induction Cooker & Microwave Cleaning Wipes are not your regular wet tissues. They have high-end embossing and are made of 80% premium pulp hydronite. This makes them especially tough and durable, and roughly textured enough to ensure thorough cleaning. You can also use them on a diversity of surfaces, including your kitchen walls and gas stoves. These cleaning wipes come in 100 piece containers so you can use it for a very long time before replacement as well!