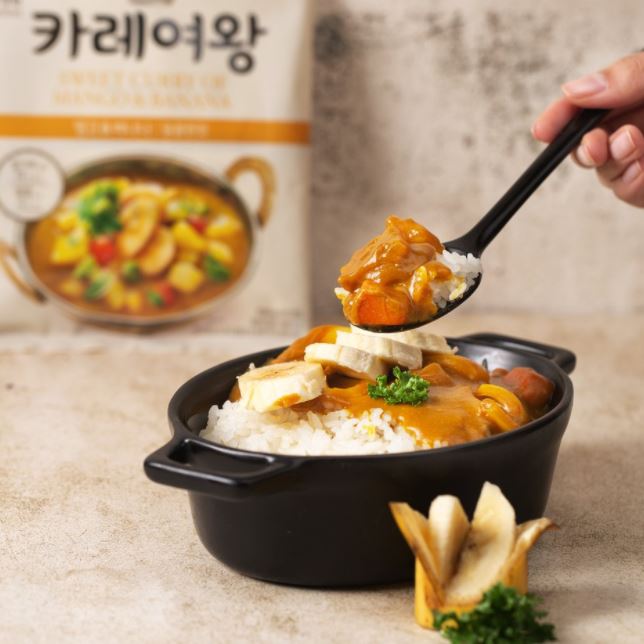 Curry Queen Mango & Banana Sweet Curry Seasoning 카레여왕 망고바나나맛 (108g, 4 pax) | Chung Jung One
Curry Queen Mango & Banana Sweet Curry Seasoning
A rich and thick curry broth you can easily prepare and savour at home. Enjoy the taste of mango & banana, which gives a soft and deep taste and unique, tasty twist to the spicy curry broth. As the spice level could be controlled by adding less of the spices, you can adjust the spiciness of the broth to your liking.
Storage Information
Please store product in a cool, dry place away from direct exposure to sunlight.
Details
Net Volume: 108g
Possible allergens: Food products containing milk, soybean, wheat, beef, shellfish, tomato and chicken.
Ingredients: 
Granular Snow Curry (85g) - Rice flour, curry pre-mix, brewed soy sauce, bay salt, soybean, wheat, refined salt, fried onion powder, glycine, beef extract powder, curry powder, curry seasoning oil, Woozi oil, concoction (emulsifier, black pepper, garlic powder, vegetable oil, casein sodium, amylase, potassium phosphate, lecithin), alpha corn, coriander, cumin, turmeric powder, fenugreek, fennel, corn starch, refined sugar, composite seasoning, yeast extract, honey, pepper powder, apple fonduevo stock.
Mango & Banana (20g) - Mango puree, banana puree, purified water, refined salt, refined sugar, fruit sugar, meat extract, fruit-vegetable extract, flavour enhancer.
Spice (3g) - Red pepper powder, black pepper powder, garam marsala, fennel, coriander, parsley flakes, cardamom.
Please refer to expiry date stated on product packaging.