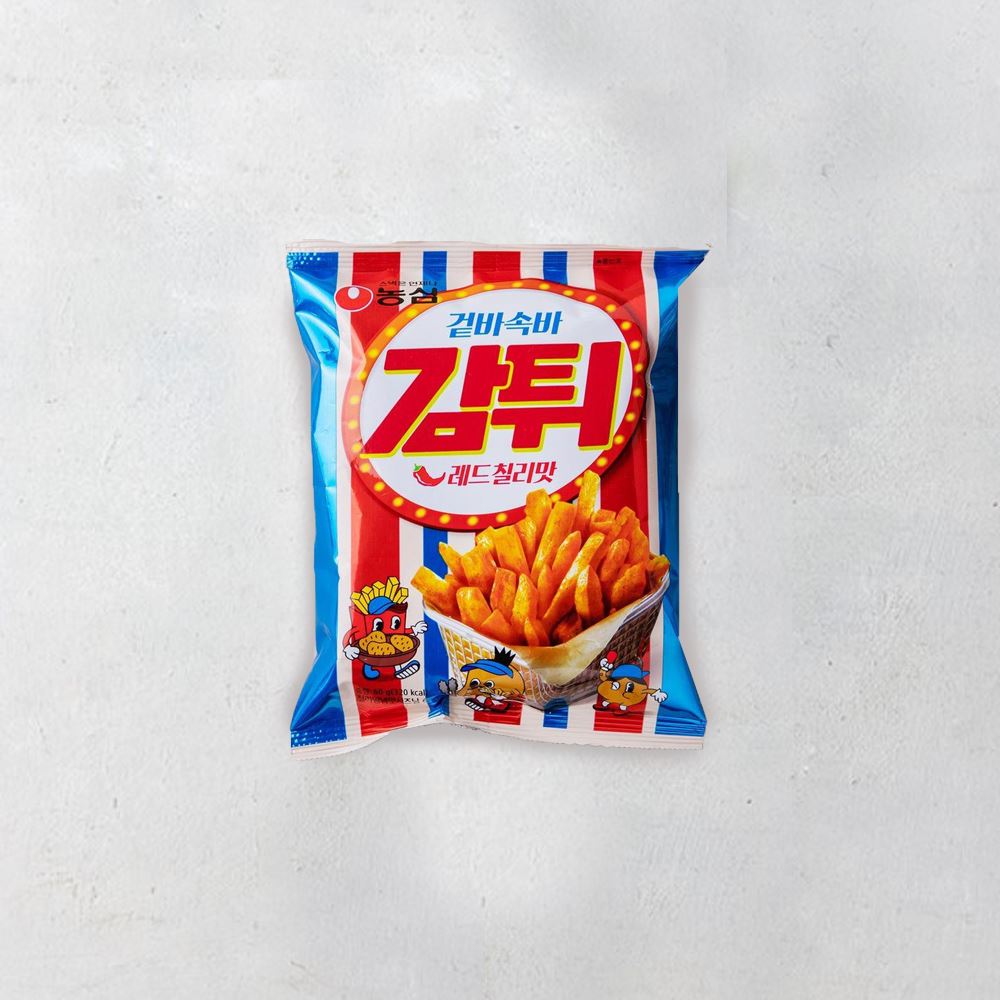 Fried Potato Snack (Red Chilli Flavour) 감튀 레드칠리 (60g) | Nongshim

Fried Potato Snack (Red Chilli Flavour)
Tasty Fried Potato Snack that is crispy inside out, paired with a sweet and spicy chilli seasoning. The sweet and salty flavour of this snack will have you hooked on it! The snack can be enjoyed on its own, or you can double the enjoyment by pairing it with a nice, cold glass of beer.
Storage Information 
Please store product in a cool, dry place away from direct sunlight exposure. Once opened, please consume the snack immediately.

Details
Net volume: 60g
Ingredients: Potato flake (Germany: potato, emulsifier), rice bran oil (Thailand), wheat starch (Germany), corn granule (corn, coarse corn powder, silicon dioxide), wheat flour, palm oil, chilli flavour seasoning (chilli sauce seasoning, tomato powder, acidity regulator, fine sugar, chilli flavour enhancer powder), white sugar, plant-based cream, potato powder, crystalline cellulose, synthetic flavour, refined salt
Possible allergens: Food products containing wheat, soybean, tomato, milk, shrimp
| | |
| --- | --- |
| Nutrition Information | Calories 320kcal (per serving) |
| Serving Size | 60g |
| Carbohydrates | 36g (11%) |
| Sugars | 3.6g (4%)  |
| Protein | 3g (5%) |
| Total Fat | 18g (33%) |
| Trans fat | 0g |
| Saturated fat | 6g (40%) |
| Cholesterol  | 0mg (0%) |
| Sodium | 350mg (18%) |

% are based on an average person's daily intake of 2000kcal
Please refer to expiry date as stated on the product.