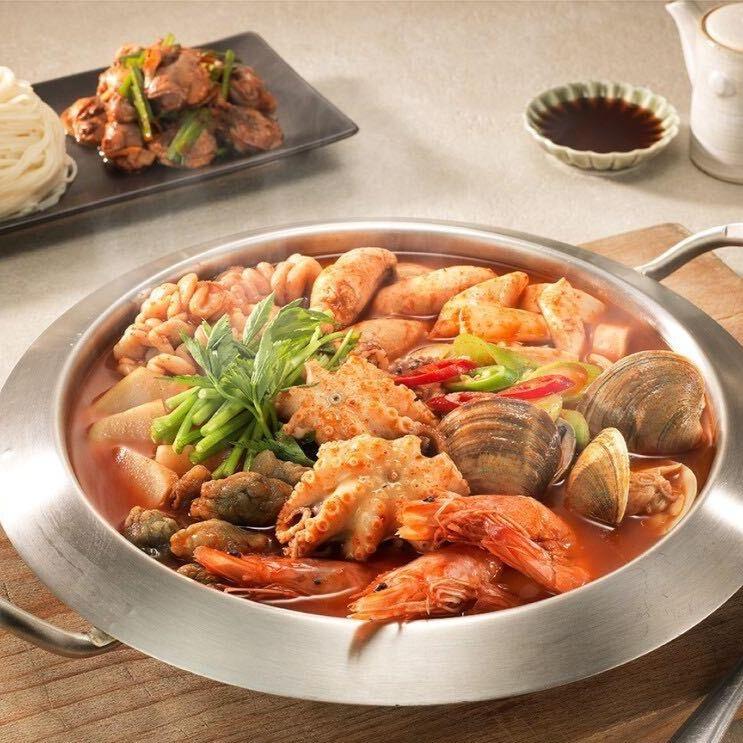 Yeonan Sikdang Spicy Seafood Stew 연안식당 알짜배기 듬뿍 해물탕
Korean Frozen Spicy Seafood Stew
Korean Frozen Spicy Seafood Stew made by a famous Korean Seafood Restaurant! You can now easily prepare and enjoy Yeonan Sikdang's popular menu and experience the taste of the sea at the comfort of your homes. A spicy seafood stew prepared using 7 different seafoods. Each of these seafood contributes their own charms into this spicy but refreshing stew, leaving you yearning for more. A sumptuous dish to enjoy as a meal that even goes well with alcohol! 
Generous Fresh Ingredients
?"️ Up to 10 ingredients were used, including 7 different seafoods and fresh vegetables
?"️ In addition to the deep flavours from the seafoods, Yeonan Sikdang's very own secret recipe season sauce gives the stew a palatable taste which will surely stimulate your appetite
?"️ Various textures from each seafood included will have you discovering different charms with every bite
More About Yeonan Sikdang
Yeonan Sikdang is an extremely famous, highly-raved fresh seafood restaurant in Korea. They are popular for their cockles, as well as several other seafood side dishes. Yeonan Sikdang shares with its customers their mouth-watering sauces made with their very own specialty recipes. Such combinations of these unique flavours with seafood cannot be found elsewhere. Now that Yeonan Sikdang had collaborated with Fresh Easy to produce ready meals, we can now enjoy them conveniently at home!
What You Will Be Getting
Prawns, Pollock Roe, Cod Fish intestines, Giant Squid, Pleated Sea Squirt, Clams, Webfoot Octopus (1 packet)
Radish, Leeks, Cheongyang chili pepper (1 packet)
Seasoning Sauce (1 packet)
Each meal kit serves 2-3pax.
Storage Information
Please store product in the freezer (-18 degrees Celsius and below). Please do not refreeze after thawing.
Details
Net Volume: 1,030g X 1 box
Ingredients: Squid (Peru), Pollock Roe (Russia), Cod Fish Intestines (Russia), Prawn (Peru), Clam (Vietnam), Sea Squirt (Korea), Webfoot Octopus (Vietnam), Radish (Korea), Sauce [Garlic 1 (China), Chili Powder (China), Refined Salt, Garlic 2, Anchovy Extract], Leek, Cheongyang Chili Pepper
Possible allergens: Milk, Soybean, Wheat, Prawn, Beef, Squid, Crustaceans
Please refer to expiry date as stated on the product.