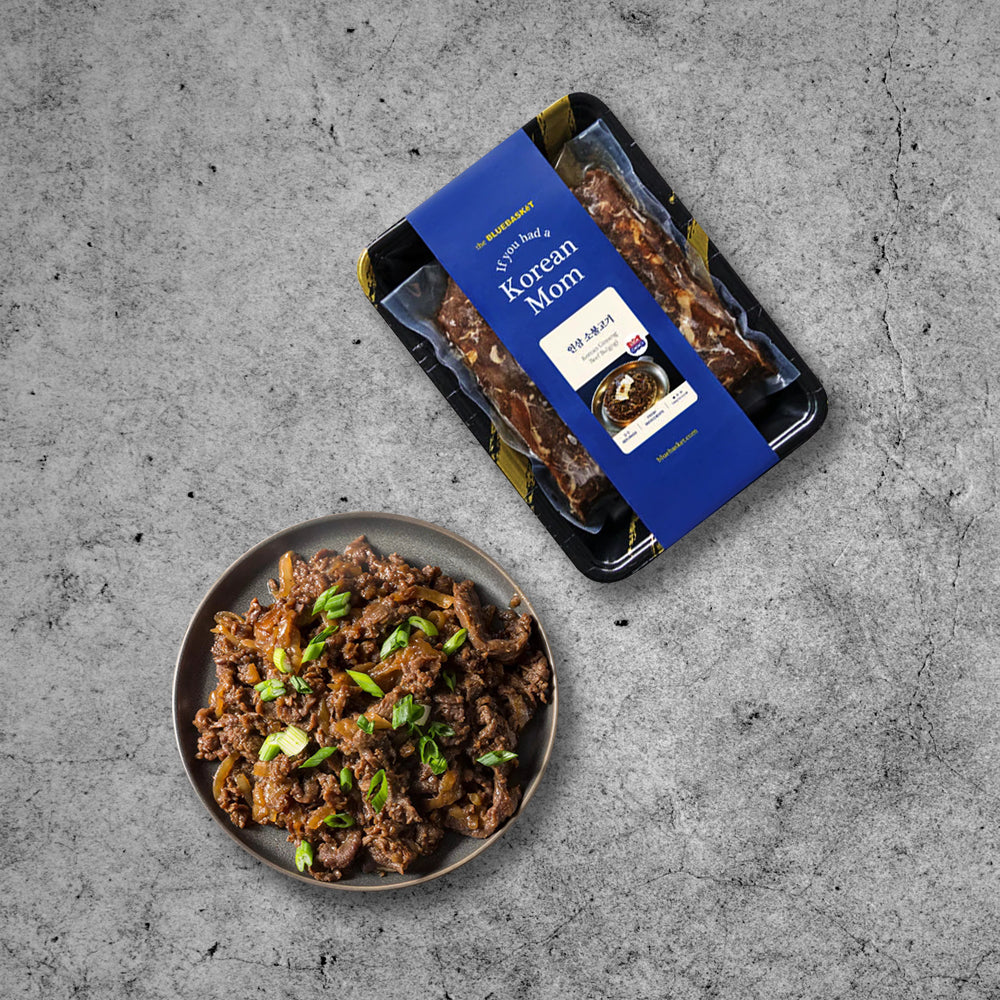 Korean Premium Beef Bulgogi (2 x 250g) 인삼 불고기 | The BlueBasket
Korean Premium Beef Bulgogi (2x 250g) 인삼 불고기



Ginseng Bulgogi
BlueBasket's Bulgogi is different. We use only the best quality part of the Beef Chuck Roll, where its fats have been removed. Mixed with a secret recipe sauce that was developed over a long period of time, you will be able to taste a deep flavour. 
In consideration of the health and energy levels of Singaporeans who are exhausted from the hot weather, a 6-year-old ginseng grown in Korea's best ginseng plantation, Geumsan, is included to provide a luxurious and healthy taste in addition to the sweet and savoury Bulgogi. 

Check Point

Premium Grade Meat
If You Had A Korean Mom's Ginseng Bulgogi boasts a premium quality beef cut, which has been thoroughly cleaned. 

6-Year-Old Geumsan Ginseng
Ginseng, known as the best health food in Korea, warms and rejuvenates the body. Enjoy this 6-year-old ginseng from the finest ginseng plantation in Geumsan, together with the Bulgogi. 

BlueBasket's Secret Recipe Sauce
BlueBasket's secret recipe sauce that everyone will enjoy, which includes ground fresh fruits to enhance the tenderness of the meat. 

Fuss-Free Grilling
The meat is cut into a thickness that is optimal for grilling, before being marinated and shipped out frozen. Simply defrost the meat and grill it in a pan to enjoy! 
How To Cook

01
Thaw the product in a refrigerator. Usage of hot water or microwave will cause the meat to lose its juice and end up tough.  

02
Place the meat in a non-stick pan and stir-fry on medium heat. 

03
When the meat is half-cooked, add in 50ml of water and the ginseng, then allow the meat to fully cook. Overcooking the meat will cause it to be tough. 
How To Enjoy

Bulgogi Rice Bowl
Drizzle the broth onto the rice, and top it off with the bulgogi to enjoy a hearty meal. 
What You Will Be Getting

2 Packets of 250g Ginseng Bulgogi
- Vacuum packed and flash-frozen Ginseng Bulgogi
- Separately packed into 2 packs of 250g each, to allow easy cooking of smaller portions
- Please store product in the freezer at -18°C upon receiving it