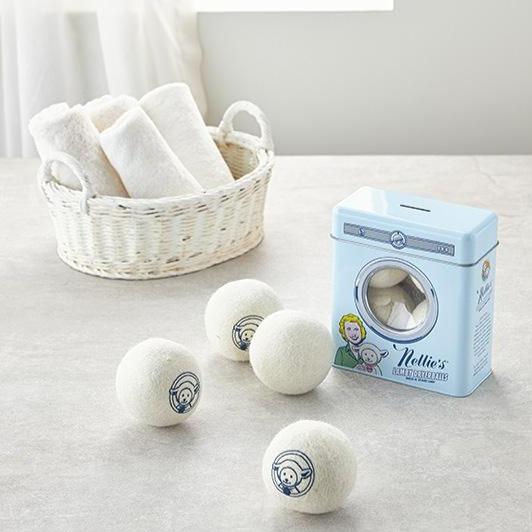 Laundry Wool Dryer Balls 울드라이어볼 (4 pcs) | Nellie's
Nellie's Laundry Wool Dryer Balls
Searching for a natural alternative to toxic dryer sheets?
Look no further! With pure New Zealand wool straight through to the core, Nellie's Laundry Wool Dryer Balls act as a soft, silent, natural fabric softener that help reduce drying time, soften fabrics and reduce wrinkles and static without infusing garments with scents or chemical additives that can trigger allergic reactions.
The wool dryer balls come in a cute, retro reusable tin for convenient storage. The tin also doubles up as a piggy bank - you?™re going to need somewhere to put all the money you?™ll save from using less energy from drying!
Usage Directions
Ensure there is space inside the dryer for the wool dryer balls (leave about 20~30% space for the dryer balls after loading your laundry).
Separating natural fabrics from synthetic fabrics at this step can also help reduce static.
If you wish, you can also add 1-3 drops of essence oil on each wool dryer ball to leave a fragrance on your laundry.
Place the wool dryer balls into the dryer. For a small laundry load, use 1-2 wool dryer balls and for a larger laundry load, add 3-4 wool dryer balls.
Leave the wool dryer balls out in an airy place to dry after each use before storing or re-using them to prevent any foul smells.
FAQ
Do I add all 4 wool dryer balls at once to my laundry?
You can add either 2 or 4 dryer balls to your laundry, based on your personal preference.

Do I need to wash the wool dryer balls before using them?
The wool dryer balls do not need to be washed before use. You can add them to your laundry directly without washing. 
Are the wool dryer balls only suitable for use in the dryer? 
The wool dryer balls can be used in both washing machines and dryers.

Why are there black spots on the wool dryer balls?
As the product is handmade using natural wool, you may find some natural black or brown spots on the wool dryer balls.
How do I store the wool dryer balls after usage?
After each use, please dry the wool dryer balls in an airy, well-ventilated place before storing them back into their container or reusing them for your laundry, so as to prevent any foul smells.