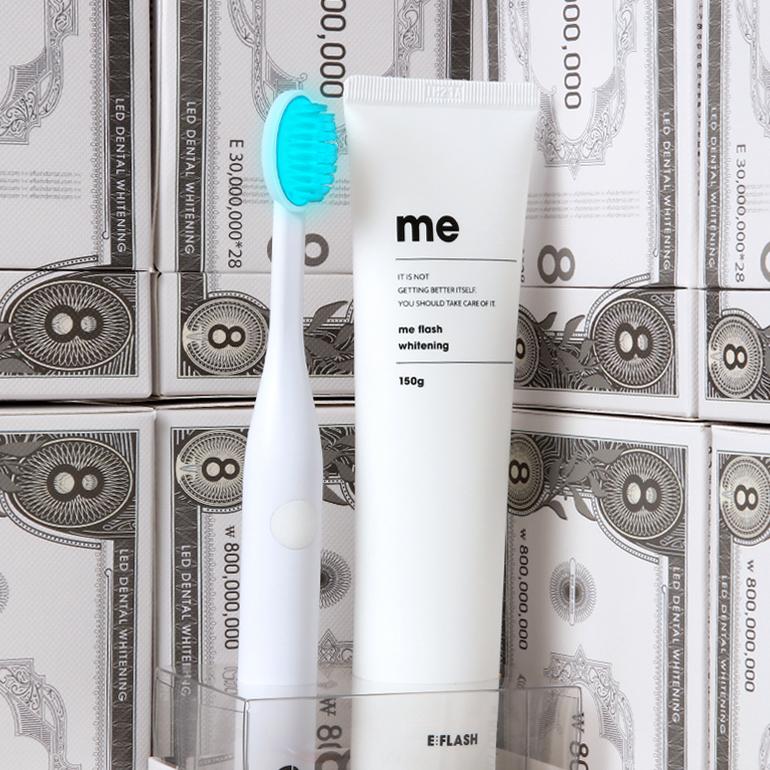 Teeth Whitening LED Toothbrush & Toothpaste Set | E:Flash
Teeth Whitening Made Easy
Want to have rows of shiny white teeth without spening the extra time on whitening care? The Me Flash LED toothbrush and toothpaste set helps incorporate whitening functions into your everyday dental routine. Just take 3 minutes to brush your teeth everyday and Me Flash will do all the job for you.
What's in the Set
LED Toothbrush 
Whitening Toothpaste (150g)
3 Me Flash Bristles
Instructional Manual
 Whitening Toothpaste
The Me Flash whitening toothpaste is effective in whitening your teeth, preventing decay, getting rid of bad breath, maintaining oral health and hygiene, preventing gingivitis, periodontitis, and periodontal and gum diseases, and removing plaque.

Citrus Scent
Toothpaste with a refreshing citrus scent for a fresh-smelling breath after use. The toothpaste is mildly viscous and suitable for daily use by the whole family.
150g Packaging
One tube of Me Flash whitening toothpaste can last for about 2-3 months if used twice daily.
How LED Works
The colour of your teeth changes daily. The Blue LED light emitting from the toothbrush activates the whitening solution in the toothpaste to get rid of all teeth discolourations.
LED Toothbrush Specifications
Size: (Height) 19cm, (Diameter) 1.5cm
Weight: 30g
Waterproof level: IPX7
Power output: 3V
Material: Handle: ABS / Bristles: PBT / Head: PET / Button: Rubber
Temperature Limit: 60°C
Battery: 3V mercury battery (built-in)

3-Minute Timer
It takes about 3 minutes to clean every surface of your teeth 10 times in order to ensure that every area of your oral cavity is cleared of germs and that you will not develop bad breath and teeth discolouration. The LED toothbrush has no 'off' button and will only switch off automatically after 3 minutes of use.
Replaceable Bristles
The bristles on the toothbrush can be replaced easily anytime. This set comes with 3 extra bristles for replacement.
0.1mm Anti-Bacterial Micro Bristles
The bristles on the LED toothbrush are 99% anti-bacterial and prevents bacterial growth even in humid bathroom environments. 
Certifications
The Me Flash LED toothbrush and toothpaste have gone through many strict tests and regulations.
Certified by the KFDA for effective whitening
Contains 4 ingredients certified by ECOCERT 
LED toothbrush tested to last 10 months without recharging
Certified by KTL for eye-safety
Certified by KOTITI for non-emission of harmful substances
KTC waterproof tested
Insured by Samsung Fire & Marine Insurance
Product FAQ
Q: Can I use it everyday?
A: This product has gone through studies and tests and has been approved by the KFDA.
Q: Will I develop sensitive teeth after using the Me Flash whitening product?
A: Studies have shown that 95.45% of the participants do not develop sensitive teeth from using the product so you may use it without worries.
Q: How should I use the toothbrush?
A: The LED light turns on upon pressing of the button. The light will not turn off until 3 minutes have passed.
Q: How long can I use the toothbrush and toothpaste for?
A: If used twice daily, the toothbrush can be used for up to 10 months, and the toothpaste will last about 2-3 months.
Q: The LED light does not turn off.
A: The LED toothbrush cannot be switched off. The LED light will always be on for 3 minutes so that you can focus on brushing your teeth within that time.
Q: Is the toothbrush waterproof?
A: The Me Flash toothbrush can be kept in humid bathroom conditions and can be washed under running water. (Do not soak the toothbrush in water.)
Q: Must I use the toothbrush and toothpaste together?
A: You can use other whitening products with E:FLASH products, but in order to achieve results as shown from studies, using the E:FLASH toothbrush and toothpaste together is recommended. 
Q: How do I recharge the battery?
A: The E:FLASH toothbrush has an in-built battery which can last for about 9 months without charging if used twice daily. 
Q: Can I use the toothbrush when I'm correcting my teeth (with braces)?
A: Yes, you can. The 0.1mm bristles are effective in cleaning all gaps between teeth and braces.
Q: Can children, pregnant ladies and nursing mums use the product as well?
A: For children below 12, pregnant ladies and nursing mums, please do not use the product or seek professional advice before using it.
Q: Can I clean my tongue with the LED toothbrush?
A: As the E:FLASH toothbrush and toothpaste have been proven to be effective in removing germs, it will be good to use them on your tongue as well.
Q: Of I press the start button again while using, will the 3-minute timer restart itself?
A: The timer does not restart or extend when you press the start button while in use. The toothbrush will still switch off in 3 minutes.
Q: Will the battery continue to run out when I'm not using the toothbrush?
A: The battery has been designed to prevent any power loss when not in use.
Q: What are some things to take note when using the product?
A: Do not consume food and beverages with strong colourings (eg. coffee, coke, orange juice etc.) and smoke for an hour after whitening your teeth with Me Flash products.
Pre-order FAQ
How does this work?
Items sold on this page will be on pre-order basis only and guaranteed cheapest price you?™ll see on BlueBasket for these items. The items are not guaranteed to return on BlueBasket after pre-order closes so hurry and place your order while you see it!

When does new items open for pre-order?
We will launch new pre-order items biweekly so keep your eyes peeled on this page for newest items.

When will my items be delivered?
After pre-order closes, we estimate around 1-2 weeks for it to reach your doorstep. Any delays will be notified to you via email.

Can I combine order with other BlueBasket items?
As these items may be shipped directly from Korea to your doorstep, we cannot process any other items ordered with pre-order items. Any other items added to your order may be cancelled if purchases are below the minimum free delivery spending. 

If more than 1 item is pre-ordered the delivery may be separate.