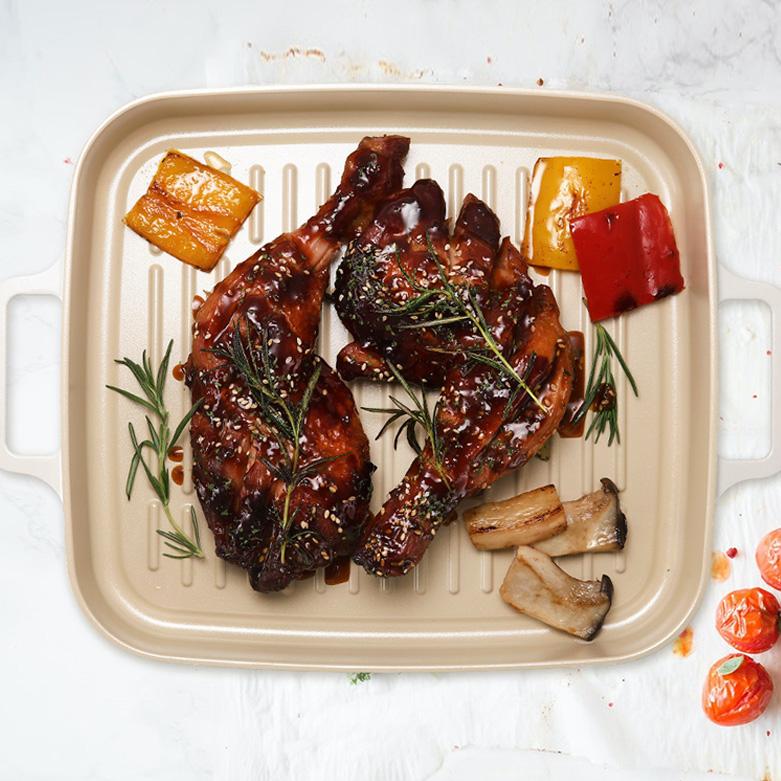 FIKA Grill Pan (28cm) | Neoflam
FIKA Induction Grill Pan
Made in Korea, FIKA cookware are induction stove friendly with minimalistic designs inspired by the natural landscapes of Sweden.

This induction grill pan is the perfect size for preparing a feast for your family and guests and works beautifully for plating your dish. 
 Product Specifications
250 x 345 x 40mm Ceramic Coated Grill Pan
Premium Non-Stick Coating
ï»?span class="s1">FIKA's cookware are covered in a ceramic coating designed and manufactured by an in-house research institute to resist stains and colourations. They are not only hassle-free to clean, they also make cooking easier even when using less oil.
Minimalistic Design
With a curated palette of sandy tones, FIKA cookware provide a sleek, nature-inspired aesthetic that completes your modern dining table set-up.

Induction Stove & Oven Friendly
The FIKA grill pan works on induction and gas stoves as well as in ovens, providing you with the greatest flexibility for cooking up any dish.
Made in Korea & Chemical Free
FIKA cookware are made in Korea with ceramic coating manufactured from natural materials, ensuring that no harmful chemicals like PFOA are released when heated.