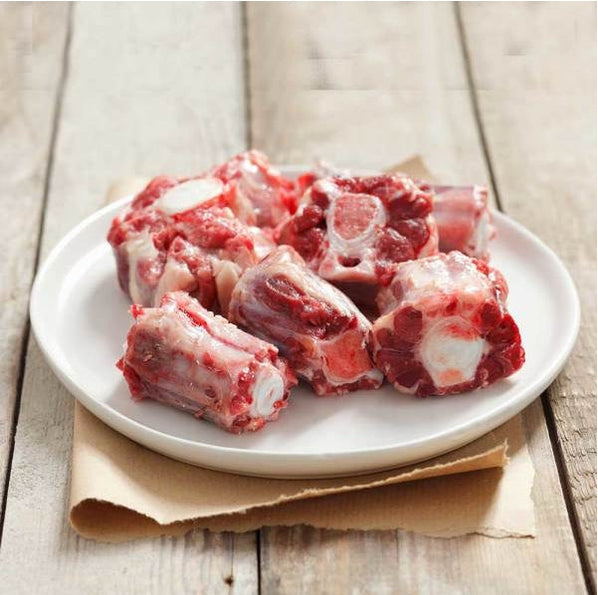 Oxtail 500g 미국산 소꼬리 (찜, 탕용)
Oxtail 500g 미국산 소꼬리 (찜, 탕용)
What Is Oxtail?

Oxtail is a popular delicacy that comes from the tail of the cow. The tail is cut into thick pieces or chunks. It is often stewed or braised, releasing superb flavours.
How To Enjoy

Optimal for slow-cooking steamed dishes and warm-up soup.
Add savoury seasoning using soy sauce and pear to enhance its flavour.
Can prepare a dish comparable to one of luxurious restaurants.
Ways To Defrost

Thaw by leaving the meat in the refrigerator for around 1 day or soak in cold water to enjoy th freshness.
Make Delicious Soup with BB's Oxtail

Pour the thawed contents into a concave pot and heat them over high heat.
When it starts to boil, add seasoning to the meat from time to time and boil it over low heat for 7-8 minutes.
Tip! While boiling the meat with seasoning, stir it occasionally so that it can be seasoned evenly.
Enjoy it in typical Korean way!

Depending on your taste, add red pepper powder and Cheongyang chili pepper to make it spicy.
Stir-fry rice and seaweed powder together with the remaining seasoning.
What You Will Be Getting
500g of selected Oxtail
Please store product in the freezer below -18 °C upon receiving it
Shipping Method

BB COLD BOX

Products are placed in biodegradable bags and shipped via our BB Cold Box
Our BB Cold Box is layered with dry ice to ensure temperature is kept cool during transit
Upon arrival, our delivery person will hand over the biodegradable plastic bags containing your order(s)
BB Cold Box will NOT be given to the customer