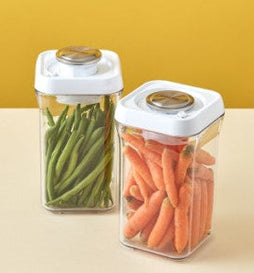 VAKUEN PUMP&MAHA

If you keep your food in plastic bags or Ziploc bags with the wrapping on,
This can actually cause a build-up of moisture and external air that can speed up the decaying process. With VAKUEN's Multi Containers, ensure that your food can be kept in a completely dry, sterile environment.

Comparison of Freshness Retention

Variants


2 Types of Vacuum

PUMP(Mannual Vacuum Type)

MAHA(Device Vacuum Type)

BPA Free, Eco-Friendly, High-Tech SAN Container

Stackable
Colourless
Odourless
Strong
Transparent
Light in weight
Not easily broken
Greatly improved heat resistance and durability
Can hold hot water
Great alternative to glass bottles
Much better thermal stability compared to PP
Does not produce carcinogens not using polycarbonate

Eco-friendly, Non-toxic antimicrobial Platinum Sillicon
All the products VAKUEN use are made with platinum sillicon. It is an eco-friendly material that safe for humans, being used for medical purposes and infants' products. Antibiotics are added to block bacteria that cause food poisoning, so they can be used more hygienically.
All the products VAKUEN except maha devices made in Korea with Korean materials and technology. OEM products with low-quality are incomparable.
How to use VAKUEN

PUMP : Dial-Up
Place your hand evenly and put your palm on the dial.
Press the vacuum pump and rotate it counterclockwise.
*Designed in spring structure, the dial can be easily turned when the spring is pressed.
PUMP: Creating a vacuum
Place food items into the container and close the lid.
Dial-up and press the vacuum pump multiple times to discharge the air. Pumping times differ from items' amount and quantity.
Turn the dial clockwise to lock when pump is no longer pressed.

PUMP: Releasing a vacuum
Press a little white button beside the dial.
*To be released, it must allows air to be entered.
*The vacuum is maintained when you hear the sound of air coming in.
Press the white button multiple times to be released and open the lid, holding the lid and clear container.
How to use VAKUEN MAHA

MAHA: Sealing a partial vacuum
Close the lid, after placing food items into the container.
Press the air valve(Valve Down).

MAHA: A total vacuum with a vacuum device
Close the lid, after placing food items into the container and press the air valve.
Put the vacuum device on the top of the air valve and discharge the internal air.

MAHA: Open the lid
Pull the air valve of maha(Valve Up).
Open the lid, holding the transparent container and lid.