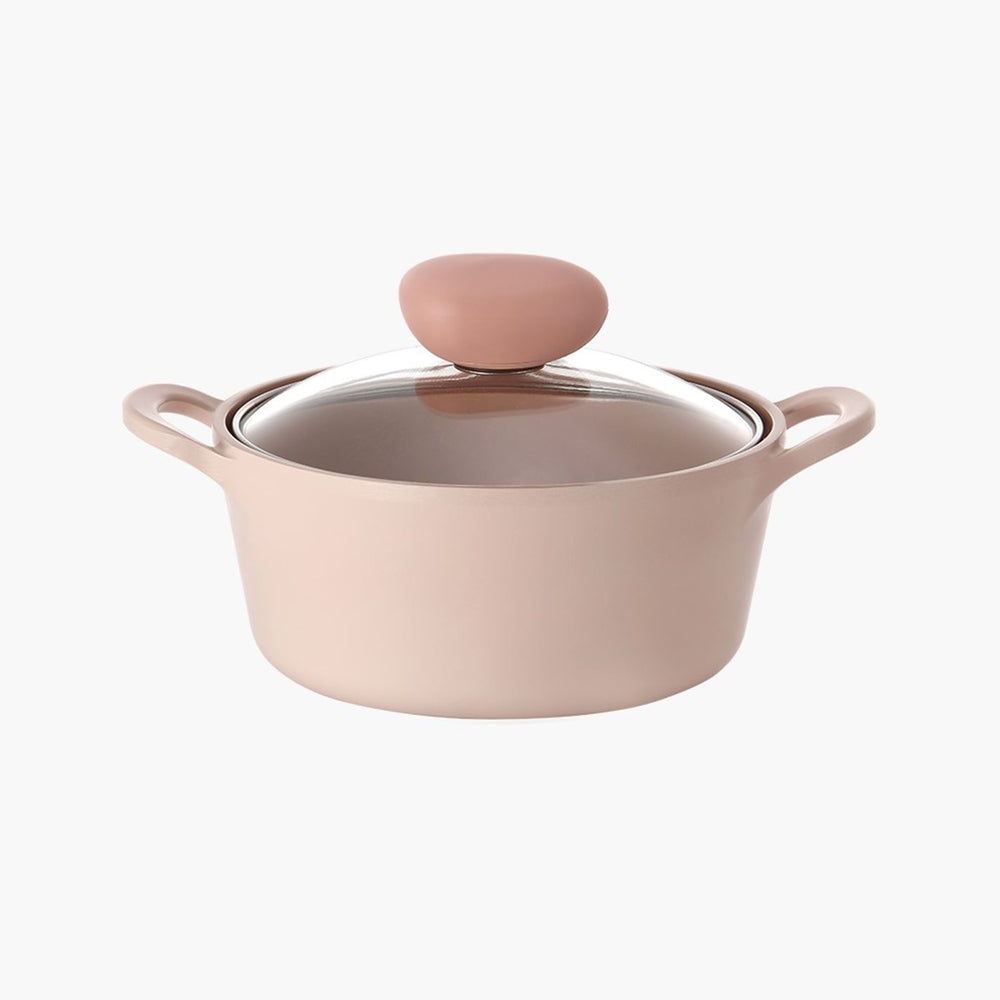 Sherbet Pot 샤베트 냄비 (18cm) | Neoflam
Sherbet Pot (18cm)
With a lightweight, functional and elegant design, the Sherbet Pot is a must-have essential for your kitchenware collection. The Sherbet Pot is available with either single or double handle for you to choose from, based on your preference.
Product Specifications
180 x 368 x 95(125)mm (1.8L) Ceramic Coated 18cm Single-Handled Pot
180 x 248 x 84(92)mm (1.6L) 
Ceramic Coated 18cm Double-Handled Pot
Smart Lid Design to Prevent Overflow
Every Sherbet Pot comes with a lid that is made using tempered glass and bakelite. The lid is designed to allow for steam to be discharged, so as to prevent overflow when boiling. The pot has also been designed and manufactured using cutting edge technology to allow for higher thermal efficiency, so that food can be cooked thoroughly even on lower heat levels.
N

on-Stick PFC-Free Ceramic Coating

Featuring a healthy PFC-free ceramic coating from nature, the non-stick Sherbet Pot offers a fuss-free cooking experience, even with little oil used. With the Sherbet Pot, say goodbye to the hassle of scrubbing stubborn stains off your pots, making clean-up a fast and easy process.
Induction Stove Friendly
Not only can the Sherbet Pot be used on gas stoves, it can also be used on induction stoves too, providing you lots of flexibility in
the
kitchen.
Cutting Edge Technology and Chemical Free
Enjoy a peace of mind while preparing your meals. Neoflam's Sherbet Pot is a healthy cookware certified to be free of harmful substances, as it does not use perfluorinated compounds such as PFOA, PFOS, lead and cadmium.
Not only that, the Sherbet Pot has a base with a heat expansion pattern to allow for enhanced thermal efficiency. 
Beautiful and Elegant Aesthetic
With a sweet and unique shade of pink, as well as a simple yet elegant design, the Sherbet Pot will definitely be able to elevate the overall aesthetic of your kitchen or dining table set-up and have your dinner guests nodding in approval.