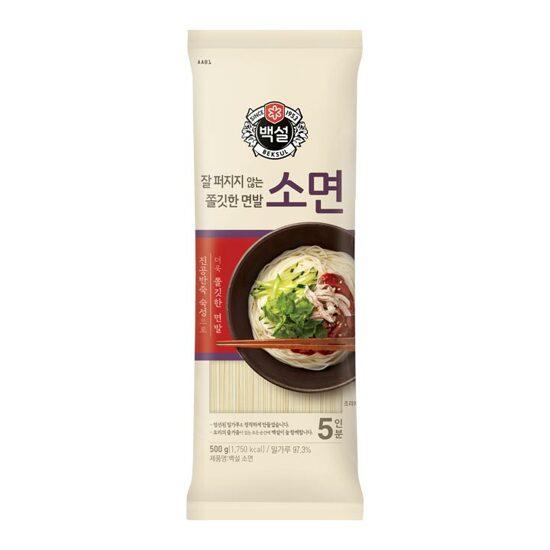 Somyeon Korean Thin Wheat Noodles 제일제면소 소면 500g/900g | CJ Beksul
Somyeon Korean Thin Wheat Noodles
Create delicious noodle dishes at home with these Korean Thin Wheat Noodles (Somyeon) that are soft yet chewy. The noodles are made using only CJ Baeksul's premium wheat flour and refined salt to give you quality assurance, and the noodles can be used to make a wide range of delicious dishes such as jjolmyeon (Korean spicy chewy noodles), janchi guksu (Korean warm noodle soup) and more!
Preparation Instructions
Boil 5 cups of water (1000ml) in a pot.
When the water is boiling, add 1 serving of somyeon noodles to the pot and cook for about 3 minutes 30 seconds ~ 4 minutes 30 seconds. Make sure to constantly stir the noodles with chopsticks so that they do not clump together.
Rinse the cooked noodles in cold water and drain any excess moisture.
Mix the noodles with spicy bibim sauce or naengmyeon (cold noodles) broth and garnish with seaweed flakes and sesame seeds. You can also add some vegetables, meat or kimchi to the noodles for an elevated taste and heartier meal.
Based on your preference, you can use the noodles to make a wide variety of dishes, such as janchi guksu (Korean warm noodle soup), bibim guksu (Korean spicy cold noodles), kong guksu (cold soy milk noodle soup) and even spicy sea whelk salad.
Storage Information
Please store product in a cool, dry place away from direct sunlight exposure.
Details
Net Weight: 500g (5 servings) or 900g (9 servings)
Ingredients: Wheat flour (wheat: USA, Australia), refined salt (Korea)
Possible Allergens: Food products containing wheat.
| | |
| --- | --- |
| Nutrition Information | Calories 345kcal (per serving) |
| Serving Size | 100g |
| Sodium | 1300mg (65%) |
| Carbohydrates | 75g (23%) |
| Sugars | 5g (5%) |
| Total Fat | 0.9g (2%) |
| Trans fat | 0g |
| Saturated fat | 0g (0%) |
| Cholesterol  | 0mg (0%) |
| Protein | 9g (16%) |

% are based on an average person's daily intake of 2000kcal
Please refer to expiry date as stated on the product.