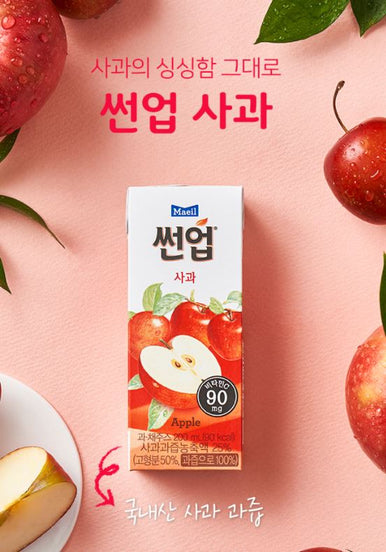 Sun-up Apple juice 200 ml 썬업 사과쥬스 200ml | Maeil

A small break of your daily life
Wanna feel refreshed? Then, a glass of fruit juice will be an amazing choice.
Introducing to you, Sun-up apple juice, which contains the original taste and aroma of apple itself. The juice of high-sugar contained apples was carefully selected and mixed to remain its texture, as if holding a whole apple. Simply put this in your Blue Basket to enjoy it in the comfort of your home.

My little wholesome friend
Made with the most delicious fruit that has received enough sunlight for around 1,000 hours until it's harvested. contains vitamin C to protect cells from harmful oxygen by antioxidant action, always try our best to provide safe products through about 238 tests every year.


A sweet recharge of happiness

Fill today's sweetness with a glass of fresh and sweet fruit juice. Enough to enjoy a lively day as well as perfect for use as a base for ade or cocktail.