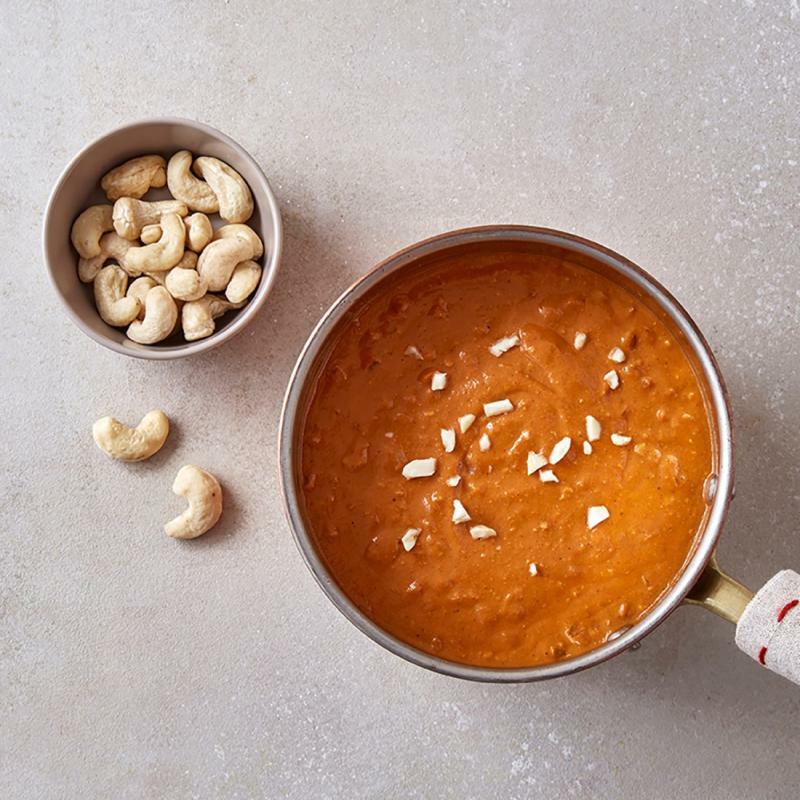 Tomato & Cashew Nut Curry Sauce (400g) 토마토견과커리소스 | Greating
Tomato & Cashew Nut Curry Sauce
Curry comes to mind when you think of delicious and healthy food! Turmeric, which is rich in curcumin, is a representative healthy ingredient that we like to include in our food. Try out this ready-made special recipe from Greating, where the mixture of cashew nuts and tomatoes creates a nutty and refreshing flavour. All you need to do is to heat it up in a microwave!
Features

?"️ Rich in nutrition, where power food ingredients are generously used.
?"️ No artificial ingredients - only anchovies, kelp and vegetable broth.
What You Will Be Getting
1 packet of Tomato & Cashew Nut Curry (400g)

Cooking Instructions
Tear off the plastic cover on one side and heat up in the microwave for 6 minutes in frozen condition.
Storage Information
Please store product in the freezer (-18 degrees Celsius and below). Do not refreeze product after thawing.
Details
Net Volume: 400g
Ingredients: Onion (Korea), purified water, milk (milk: Korea), tomato paste (Italy/tomato, salt), milk cream, olive oil, cashew nut (Vietnam), Korean soy sauce, oligosaccharide, roasted peanut powder (China), gourmet butter, mild curry powder, roasted salt, garlic, modified starch, ginger, garam masala 
Possible allergens: Food products containing soybean, wheat, tomato, peanut, milk.
Please refer to expiry date as stated on the product.