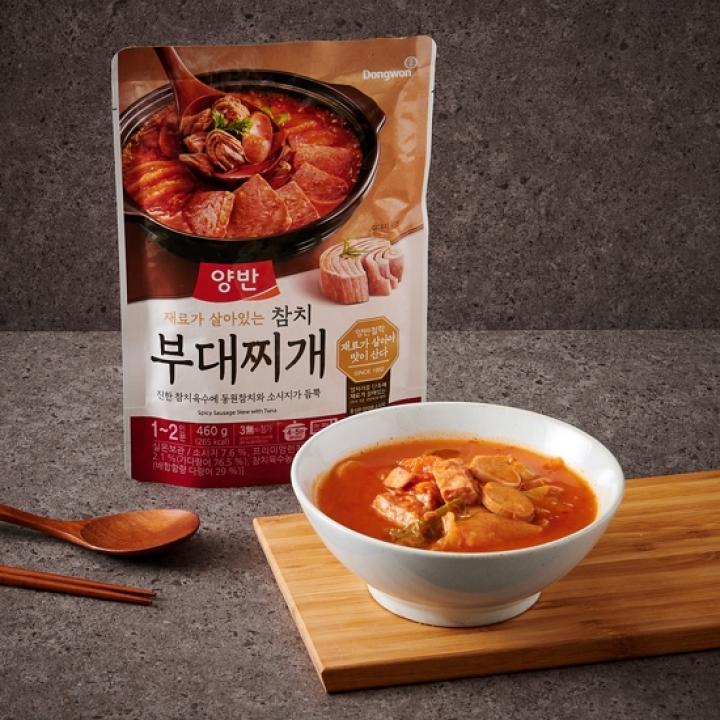 Tuna Sausage Army Stew Pouch 양반참치 부대찌개 (460g) | Yangban

Tuna Sausage Army Stew Pouch
Easy-to-prepare, fuss-free Tuna Sausage Army Stew for days when you don't feel like cooking. Each pouch contains a rich tuna broth and is packed full of ingredients like soft tuna meat, sausage and crunchy vegetables and kimchi. Simply warm up the ingredients in the pouch and enjoy a hearty, delicious meal! Each pouch can serve between 1-2 pax.
Preparation Instructions

Pour the pouch ingredients into a pot and boil for around 4-5 minutes before serving.
Pour the pouch ingredients into a microwave-safe bowl. Place a wrap over the bowl and heat up in the microwave for 3 minutes 30 seconds (700W) or 2 minutes 30 seconds (1000W).
Place the entire unopened pouch into a pot of boiling water and heat up for 5 minutes.
Storage Information 
Store the product at room temperature in a dry place away from direct sunlight.
Details
Net Volume: 460g
Ingredients: Purified water, spring onion (China), cabbage kimchi [cabbage (Korea), chilli pepper (China), garlic, onion, anchovy extract], sausage [pork (Korea), corn starch flour (corn: imported), refined salt, whey powder, processed bean products], premium luncheon meat, Dongwon lean tuna (skipjack tuna/bonito: deep-sea fish), sugar, chilli powder, garlic, brisket and flank broth concentrate extract, clear soybean enzyme, combined seasoning ingredients, modified starch, beef bone extract, mixed cheese powder, monosodium L-glutamate (flavour enhancer), milk cream mixed powder, refined salt, processed cheese, paprika colouring, tuna broth concentrate (tuna: deep-sea fish), combined mixture [shortening, rice bran oil, corn oil, lard, synthetic flavouring, natural flavouring, d-tocopherol (mixture)], combined mixture (maltodextrin, yeast extract)
Possible allergens: Food products containing egg, milk, soybean, wheat, shrimp, pork, beef, shellfish (oyster)
| | |
| --- | --- |
| Nutrition Information | Calories 265kcal (per 460g) |
| Sodium | 2490mg (125%) |
| Carbohydrates | 21g (6%) |
| Sugars | 9g (9%)  |
| Total Fat | 15g (28%) |
| Trans fat | 0g |
| Saturated fat | 5g (33%) |
| Cholesterol  | 20mg (7%) |
| Protein | 12g (22%) |

% are based on an average person's daily intake of 2000kcal
Please refer to expiry date as stated on the product.