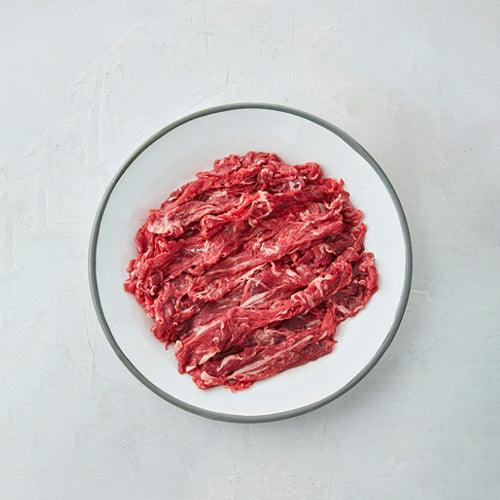 US Prime Beef Chuck Eye Roll 미국산 불고기용 알목심 200g | BlueBasket
US Prime Beef Chuck Eye Roll 미국산 불고기용 목심 200g | BlueBasket
Are you afraid of the quality of beef when you buy them online?

We provide you only realiable high quality meat under the thorough care by beef experts. Don't need to worry about its quality anymore!
Need for versatile side dishes and well-made food?
Perfect for family gatherings and celebrating special occasions.
Under BlueBasket's picky standards, only selected meat will be delivered.
What is Chuck Eye Roll?

The chuck eye roll (or simply "chuck eye") is an interesting piece of meat, because, at the rib end, it contains a few inches of the same tender muscle that gives us ribeye steaks. It, a cut from the shoulder of the cow, is chewier compared to its neighbour, the ribeye. 
Feel its freshness, making it an invigorating dish

Selected fresh beef chuck eye roll makes its texture more juicy, delivering a deep savoury flavour. It will be a sniper for everyone's taste with clean scent!
Enjoy delectable meal with BB!

Tastes best when you stir-fry it with various vegetables and seasonings.
Roasting is recommended, when you prefer less greasy part.
Enjoy delectable meal with BlueBasket!