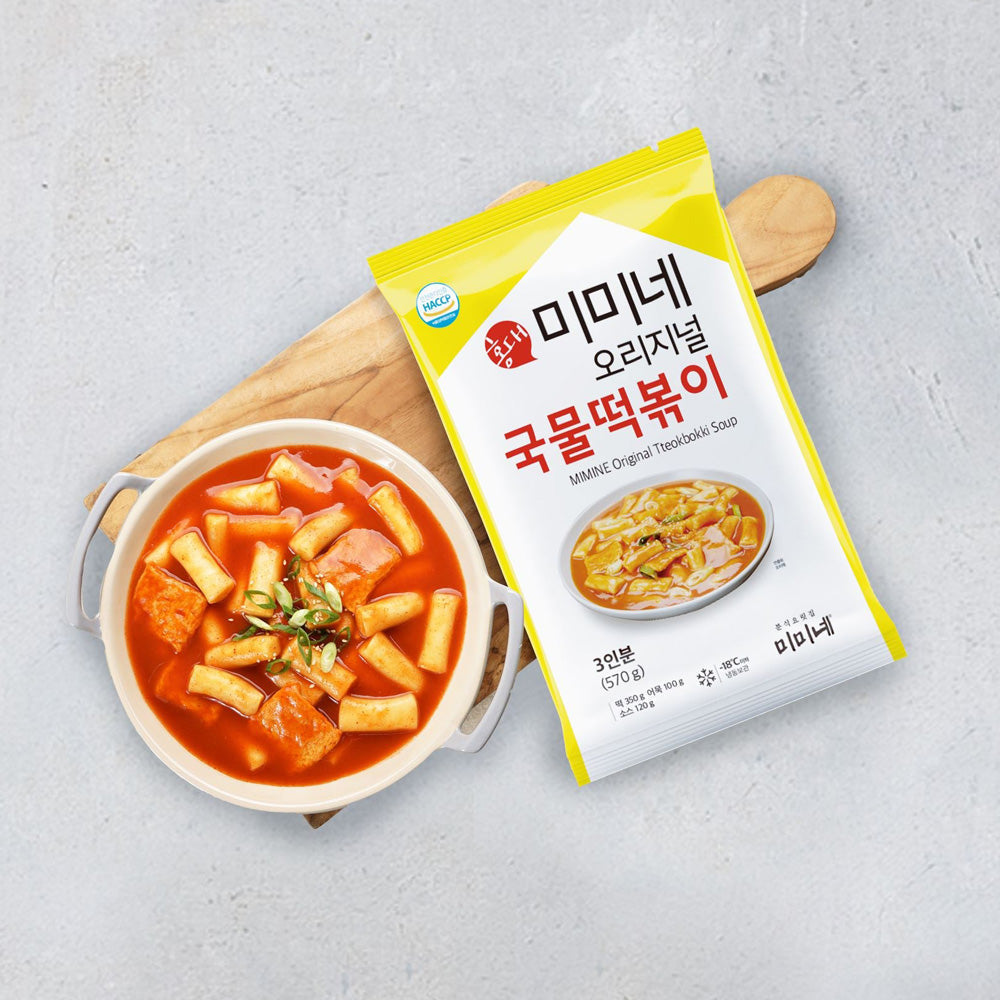 Original Soup Tteokbokki 미미네 오리지널 국물떡볶이
Original Soup Tteokbokki
Easily prepare this delicious Korean street food at home with Mimine's curated pack of ingredients. The original flavour is only mildly spicy and can be enjoyed by the whole family.
What's Included
Each pack is 570g and contains the following ingredients:
Wheat Rice Cakes
Not only are they chewy, the rice cakes topokki have gone through an aging process where the moisture within the dough is preserved. The production process is fully automated to adhere to the best hygiene standards.
Bite-Sized Busan Fishcakes
Chewy premium fishcakes produced by renown fishcake chain in Busan, Goraesa, that have been cut into bite-sized pieces for easy consumption.
Mimine's Original Sauce
Made with minimal seasoning and instead using the natural taste of vegetables, Mimine's special recipe is refreshingly spicy and leaves a clean aftertaste.
Cooking Instructions
The rice cakes are frozen within 30 minutes after production and can be cooked directly without thawing. The dough are especially chewy due to the quick-freezing technique that is used. 
Step 1
Add water (450cc / 2.5 paper cups), Mimine's Original Sauce and rice cakes into a moderately large pan and leave them to boil at a high heat after stirring well.
Step 2
When the rice cakes start to float upwards, turn the heat down to medium and add the fishcakes.
Step 3
Depending on personal preference, you may prepare additional ingredients like vegetables and mushrooms for an elevated taste. Add them in and leave them to boil for another 1-2 minutes.
Ways to Enjoy
Mimine's Soup Tteokbokki is a highly versatile dish made for everyone in the family. There are many creative ways to enjoy it on days where your appetite is low or where you don't feel like having rice.
You can also add on some some crispy Fried Seaweed Rolls, which are the perfect snack to enjoy with the soup base.
Brand Information
Mimine is a renown restaurant chain in Korea known for being the first to introduce the Soup Tteokbokki. They are a highly-trusted brand chosen by shopping malls and plays a leading role in the Korean street food scene.

Delivery Packaging
All our frozen items are delivered in a thermal bag to preserve the freshness and quality of the food products.
Details
Ingredients: Mimine wheat rice cakes: wheat flour (wheat: Australia) 98.77%, refined salt, Mimine tteokbokki sauce: purified water, sugar, Youngchang seasoning [chili pepper powder (China), Okay Home seasoning (paprika extract colouring, emulsifier), chili pepper powder, flavour enhancer, black pepper, Mimine fishcake: surimi fish {imported (USA, China, Vietnam) / fish meat, sugar, D-sorbitol, acidity regulator}, wheat flour (wheat: USA, Australia), fish meat (Korea), refined salt, soybean oil, carrot, onion, kombu extract, sauce 1, sugar, powdered soy protein, sauce 2, D-xylose, glycine, sodium polyphospate, ribonucleotide, potassium sorbate (preservative)