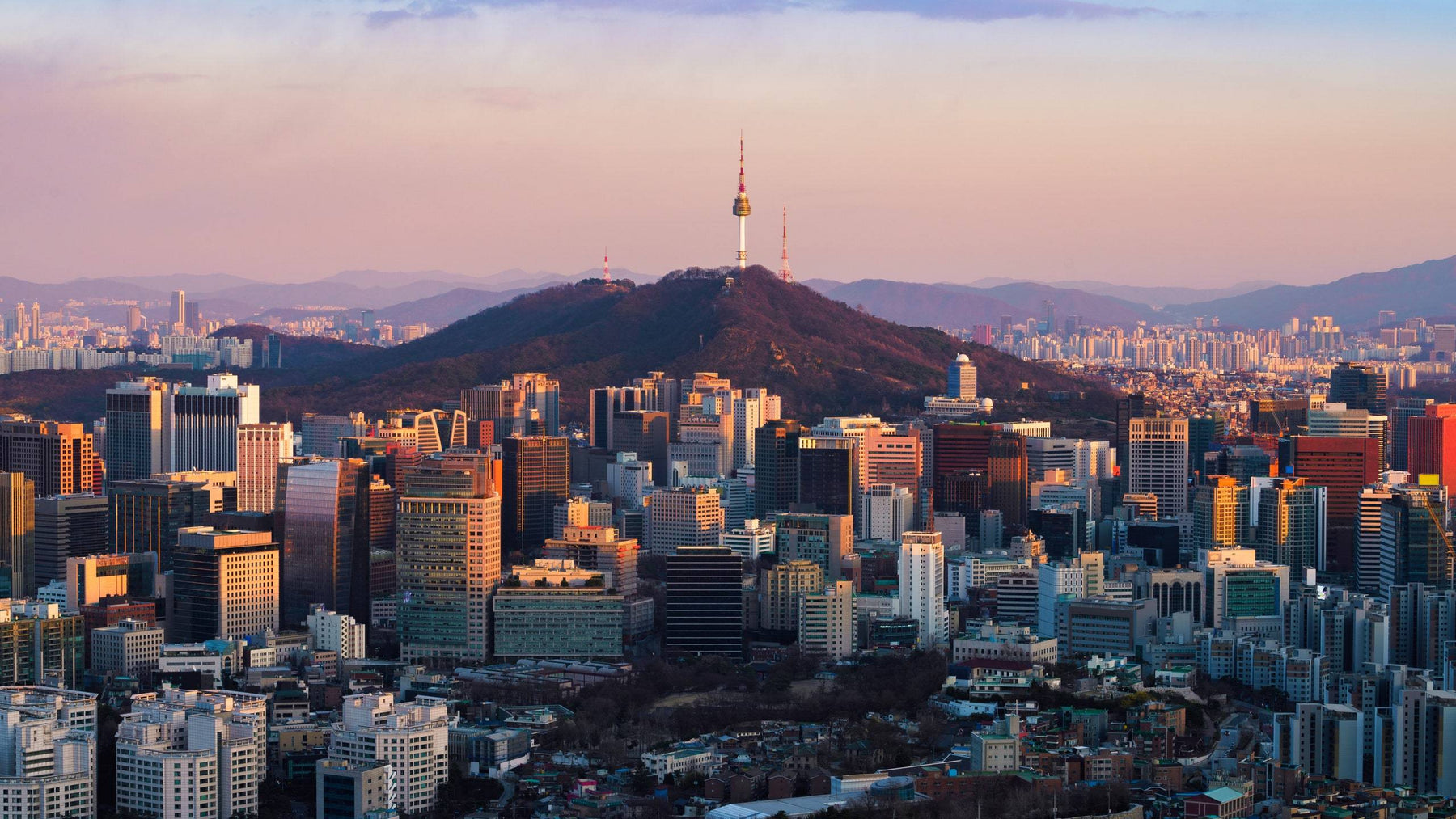 Top 10 Places to Visit on Your Next Trip to Seoul
Having a strong bout of wanderlust and dreaming about your next visit to Korea? While we do not yet know when travel border restrictions will be eased, let BlueBasket take you on a mini virtual tour to the top 10 hottest, must-see places in Seoul right from the comfort of your home. 
Be prepared to fall in love all over again with Seoul, as we bring you an eclectic mix of the best attractions which offer history, heritage, food, shopping and entertainment that will be sure to please people of all ages. Relive some of your Seoul-good travel memories with us and add some of these places to your travel bucket list! 
1. Bukchon Hanok Village
Kickstart your visit to Seoul with a visit to the beautiful Bukchon Hanok Village located right in the heart of the city, where you will be able to feel like the main character in a traditional Korean drama. Here, you can find over 900 well-preserved traditional hanok houses which used to serve as living quarters for noblemen and high-ranking officials. 
Beyond their traditional facades, the interiors of the hanoks have mostly been revamped to now house cultural centres, teahouses, cafes, restaurants and guesthouses. Spend a relaxing morning or afternoon taking a leisurely stroll throughout the Bukchon Hanok Village and stop by a cafe or teahouse that catches your eye to enjoy a refreshing cup of tea. If you wish, you can also head over to the iconic Gyeongbokgung Palace located in the vicinity, where you can catch a glimpse into the lives of the Joseon royalty and learn more about Korea's long history. 
BB Recommend: If you're feeling hungry after exploring the hanok village, we recommend heading over to the famous Tosokchon Samgyetang restaurant located nearby, which serves up delicious samgyetang (ginseng chicken soup). The tender chicken meat and rich ginseng broth will definitely warm up your stomach and invigorate you. 
Missing this hearty meal of samgyetang? Why not have it right in the comfort of your home with our fuss-free and tasty ginseng chicken soup pouch which can be prepared in just 5 minutes!
BB Tip: To elevate your experience at Bukchon Hanok Village, dress in true Joseon dynasty fashion by donning an elaborately designed hanbok! You will be able to find hanbok rental shops in the area which offer a wide variety of hanboks of different styles and designs, where you will be sure to find one that captures your heart. 
Can't wait any longer? Fret not because you can also try on a wide selection of hanboks right here in Singapore, at the Korea Tourism Organisation's Korea Plaza and even take an iconic #OOTD shot at their photo-taking zone for free!
2. Ikseondong
With newtro being all the rage now (think new meets retro), Ikseondong is a hot place you will definitely want to visit when you're in Seoul. At Ikseondong, you will be able to find the hottest cafes with whimsical interior and decoration, housed in well-preserved hanoks. Get lost amongst the endless alleys of quaint and charming boutiques and cafes, stop to admire and buy the intricate handicrafts sold in the small stalls, and take lots of aesthetic pictures for the gram.
BB Recommend: Not sure where to start with the endless cafes to be found in Ikseondong? For starters, we recommend Kkilook House. Kkilook is inspired from the Korean onomatopoeia for a seagull and in the cafe, you will also be able to spot cute seagull-themed decorations. Over here, you will be spoilt for choice from the wide array of desserts they provide and to top it off, there is also a rooftop sitting area where you can enjoy the cool breeze along with the beautiful view of the hanok rooftops!
BB Tip: Although we are unable to travel to Korea and physically be in one of these beautiful cafes, BlueBasket can help you to create a memorable home cafe experience with our croffle making kit, and bagels, coupled with beautiful and functional cutlery pieces!
3. Tongin Market
Looking to get a taste of a wide variety of Korean street food while on a budget? Then Tongin Market is the place to visit. What sets Tongin Market apart from other traditional markets like Namdaemun Market and Gwangjang Market is probably it's unique payment system. Over here, you can opt to exchange 5,000 won for a string of old copper coins and a lunchbox. Thereafter, you can use these coins at participating stalls to get the dishes of your choice to fill up your lunchbox, then head over to the small cafe on the second floor to enjoy your meal.
Some of the must-try traditional Korean snacks here include tteokbokki (spicy rice cake), assorted pancakes, steamed dumplings and kimbap (rice rolls). If you prefer something more sweet than savoury, you can also try the sweet and crunchy oranda snack, which is a traditional rice snack that many Koreans associate fondly with their childhood. 
BB Tip: Looking for an authentic Korean sweet treat to beat the sweltering Singapore heat? Try our refreshing frozen persimmons!
4. Han River
Han river is the major river flowing through the heart of Seoul. The Han River is an iconic symbol of the capital not just because of its beautiful scenery but also its historical value. With more than 10 parks lining the river and various festivals and open-air markets taking place in these parks all through the year, this is a perfect spot for you to spend a relaxing day out with your family and friends. Some of the must-dos at the Han River include cycling, water sports, camping, picnics and river cruises to name a few, all while enjoying the cool river breeze and beautiful city views.
BB Tip: Along the Han River, you will almost always find groups of people either enjoying chimaek (fried chicken and beer) or instant ramen on the open fields. On your next visit, why not order some chimaek delivery or try using the instant ramen cooking machines in the convenience stores and feast like the locals do, as you enjoy the stunning sunset scenery?
5. Hongdae
Well known as a mecca for youths and all things hip and trendy, Hongdae is also a popular destination which you should definitely include in your next Seoul itinerary. Besides shopping and admiring the captivating performances of buskers, be sure to also enjoy Hongdae's vibrant nightlife with its abundance of bars, pubs and clubs.
Start off your night out in Hongdae with some Korean BBQ and soju before letting loose and enjoying some nightlife. Afterwards, head over to one of the food tents (포장마차) to grab a comforting supper of tteokbokki (spicy rice cake) - which goes extremely well with Korean fish cake and fried seaweed rolls - to end off the night. 
These food tents can be commonly seen being featured in Korean dramas and are oases of comfort for Koreans after a long day of work, as they unwind over inexpensive, no-frills comfort food along with a couple of drinks. So, on your next visit to Korea, do as the locals do and try dining at one of these food tents too!
BB Tip: Missing the taste of Korean BBQ you've had in one of the stores along the streets of Hongdae? You can now recreate this experience and enjoy a BBQ party with your family and friends right at home with our induction BBQ griddle and handy tongs instead!
6. Dongdaemun 
Dongdaemun is one of the most iconic commercial districts in Seoul besides Myeongdong, where you can find many traditional markets, department stores, shopping malls and wholesale markets. Here, you can buy everything you need at a reasonable price, in one convenient location and at any time of the day. 
Besides shopping, another must-visit in Dongdaemun is the Dongdaemun Design Plaza (DDP), a futuristic-looking landmark in the heart of the district which looks breathtaking especially at night when it is lit up. Other than the DDP, you can also take a leisurely stroll along the Cheonggyecheon Stream and dip your feet in the cooling water especially in summer.
BB Tip: Did you know that there is a Grilled Fish Street in Dongdaemun just a 5 minutes walk away from Dongdaemun Station, where you can find more than 10 grilled fish restaurants on one street? If you're feeling hungry after shopping, head over here to get a sumptuous meal of grilled fish and seafood! 
7. Myeongdong
Besides Dongdaemun, Myeongdong definitely cannot be left out too, when it comes to shopping in Seoul. At Myeongdong, you will be able to shop till you drop as you find endless alleys of cosmetic stores, fashion boutiques and more. With loud salespersons luring you into stores, wafting fragrances of street food like tteokbokki (spicy rice cake), sweet hotteok, dalgona candy and cheesy corn dogs from carts lining the shopping streets and large neon signs, walking through the streets of Myeongdong will definitely make you feel alive in an instant.
BB Tip: In Myeongdong, it is common to find several outlets of the same brand in different alleys. Try to avoid making impulse purchases at the first outlet you encounter. Instead, check out different outlets before making your purchase, as discounts and stock availability vary across outlets!
8. Naksan Park and Hyehwa

When it comes to admiring the night view of Seoul, the first place that comes to most tourists' minds would be the iconic N Seoul Tower. However, on your next trip to Seoul, why not pay a visit to Naksan Park instead? Naksan Park is a hidden gem that is popular among locals and has even been featured in several dramas. You can easily get here by taking a bus or a short hike up and over here, you will be rewarded with spectacular views overlooking the Daehangno district as well as Namsan and N Seoul Tower in the distance.
At the foot of Naksan Park, you can also catch a musical or theatre performance in Daehangno - the centre of performance culture in Seoul, or take lots of pictures with the whimsical murals and art installations in Ihwa Mural Village.
9. Lotte World
Are you an adrenaline junkie who loves thrilling rides or simply want to bring out the inner child in you? If you are, then Lotte World should also be added to the itinerary for your next trip to Seoul. Besides an outdoor theme park, Lotte World also has an indoor theme park, aquarium, folk museum and even shopping mall, so you're all covered regardless of the weather or your personal interests and preferences. 
In addition, you're in luck if you were to visit Lotte World in spring, because an annual cherry blossom festival is held in April at Seokchon Lake, where you wil be able to catch the heart-fluttering pink cherry blossoms against the fantastical backdrop of the Lotte World castle!
10. Day Trip to Incheon
If you would like to add some variety to your Seoul itinerary and visit somewhere with less tourists, why not consider a day trip to Incheon? Over at Incheon, there is so much more to see besides the Incheon International Airport. The best thing? It's just about an hour away from Seoul Station!
Some of the prominent landmarks in Incheon include Chinatown, where you can get a piping hot bowl of jjajangmyeon (black bean sauce noodles) paired with the chewy and crispy tangsuyuk (sweet and sour pork). For those of you who have yet to try jjajangmyeon, it is a delicious bowl of noodles topped with a thick sauce made of chunjang, diced pork, and vegetables. The wok fragrance of the sauce, coupled with its sweet and salty flavour notes will definitely have you going back for more after each mouthful. The dish is so well-loved by Koreans that there are even instant jjajang ramen available in the market! Besides noodles, you can also find fried rice topped off with the addictive jjajang sauce in Korean-Chinese restaurants.
Besides Chinatown, be sure to also head on over to Wolmido Island, an idyllic harbour with a theme park that is famous for its disco pang pang ride which has been featured on many dramas and variety shows!
Get a Taste of Korea in Singapore with KTO!
Has reading about all these exciting Seoul attractions got you all geared up for your next trip to Seoul? Good news because Korea Tourism Organisation's (KTO) Korea Plaza is offering a series of activities and programmes that offer you Korea experiences right here in Singapore. 
At KTO's Korea Plaza, you can find informative brochures and travel guides to learn more about Korea, or even take part in hanbok fittings and experiential classes like cooking and Korean language classes!
These classes will be restarting soon in June 2021, so be sure to keep an eye out for them. For more information about the latest programmes at KTO's Korea Plaza, you can also visit their Facebook page. 
To make things even better, BlueBasket is collaborating with KTO to deliver a T-Money card giveaway to kickstart your next exciting journey to Seoul! For those who have travelled to Korea before, you may be familiar with this transportation card that can also be used as a method of payment at affiliated stores.
The T-Money cards kindly sponsored by KTO do not have an expiry date and what's more, they come in an exclusive design with an image of the Dongdaemun Design Plaza on it. More details will be coming soon so do keep a lookout on our social media. 
We hope this travel guide has been helpful in preparing you for your future trip to Seoul. Till the next time that travel border restrictions are lifted and we are allowed to travel again, BlueBasket will continue to bring you the best lifestyle products straight from Korea that will take Korea right to your doorstep!